Climate Science at a glance
Global warming loads storms with more rainfall, increasing the threat of flooding. A warmer atmosphere holds and dumps more moisture.

Increasing extreme precipitation is an observed global trend firmly attributed climate change.[1][2]

Coastal flooding associated with storms and high tides is now significantly worse due to elevated sea levels.
---
Significant rains and floods hit the Southeastern US, including areas affected by Hurricane Matthew
A slow-moving system of storms carrying heavy rain brought up to 10 inches of rain from South Carolina to Tennessee, beginning Saturday, April 22 through Tuesday, April 25, leading to significant flooding, landslides, power outages, and water rescues.[3] The storms arrived the same week that regions along the Atlantic coast experienced their seasonal high tides, increasing the risk of shore road flooding.[4]
On April 22 and 23, the system brought 2 to 4 inches of rain to Tennessee and southwestern Virginia, causing flash flooding in areas affected by drought.[5]
The heaviest rainfall was focused over northeast South Carolina and southeast North Carolina, the same region that also endured significant flooding from Hurricane Matthew in October 2016.[6]
---
Extreme rainfall fits with increased heavy precipitation trend in the Southeast
One of the clearest changes in the weather across the US is the increasing frequency and intensity of heavy precipitation.[7]
In the mid-latitudes, where most of the continental US is located, there is an upward trend in extreme precipitation in the vicinity of fronts associated with mid-latitude storms.[8]
In the Southeastern US, extreme precipitation increased by 27 percent from 1958 to 2012.[7] There has also been an observed jump in the number of days per year with more than 2 inches of rain in several Southeastern cities since 1950,[9] as well as a steady increase in that measure nationwide.[10]
In the past century we have witnessed a 20 percent increase in the amount of precipitation falling in the heaviest downpours.[11]
An April 2017 study found that from 1961 to 2010, global warming increased the likelihood of occurrence of the wettest five-day periods on record in 41 percent of the observed areas of the world.[12]
Warmer air can contain more water vapor than cooler air when saturated, and studies show the amount of water vapor in the atmosphere has in fact increased.[13][14] The observed increases have been studied and formally attributed global warming.[15][16][17]
Over the last three decades, extreme and record-breaking rainfall events have significantly increased globally, and the fingerprint of global warming has been firmly documented in this pattern. Climate change is now responsible for 17 percent of moderate extreme rainfall events, i.e. 1-in-3 year events. For more extreme events, e.g, 1-in-30 year events, climate change is even more likely to be responsible, as climate change affects the frequency of the extreme events the most.[1][2]
---
Sea level rise is already affecting coastal communities through flooding during high tides and storms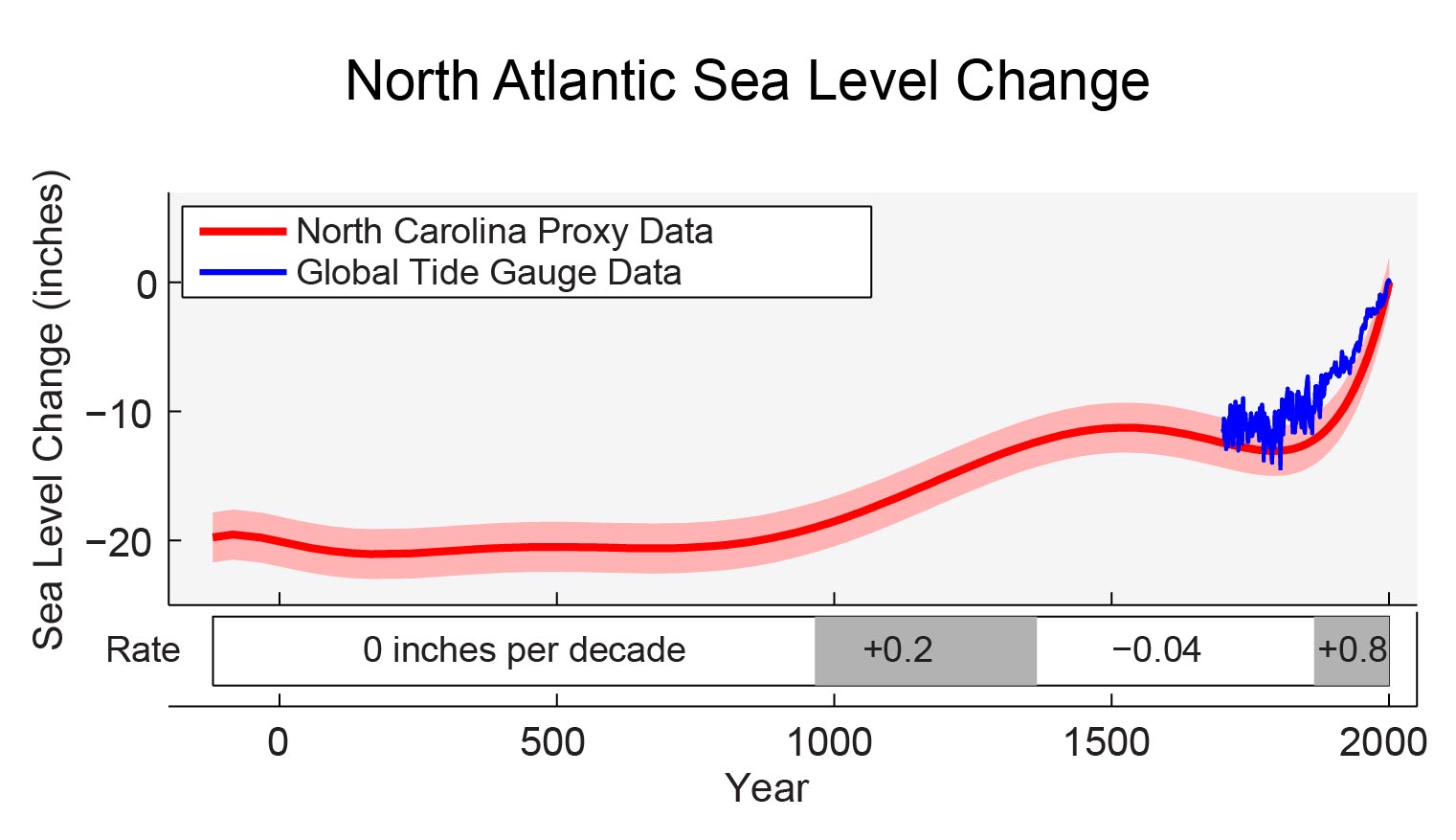 The globally averaged sea level is now 8 inches higher due largely to human caused greenhouse gas emissions,[7] an increase that drives flooding much further inland along low-lying areas such as much of the southeastern US coastline.[18] NOAA reports that so-called "nuisance flooding," e.g. coastal flooding during king tides, has already increased 300 to 925 percent due to sea level rise to date.[19]
Sea level rise and storm surge can have impacts far beyond the area directly affected. Homes and infrastructure in low areas are increasingly prone to flooding during storms. As a result, insurance costs may increase or coverage may become unavailable and people may move from vulnerable areas, stressing the social and infrastructure capacity of surrounding areas.[7]