'The warmth is really unheard of': Europe just posted its warmest January on record
,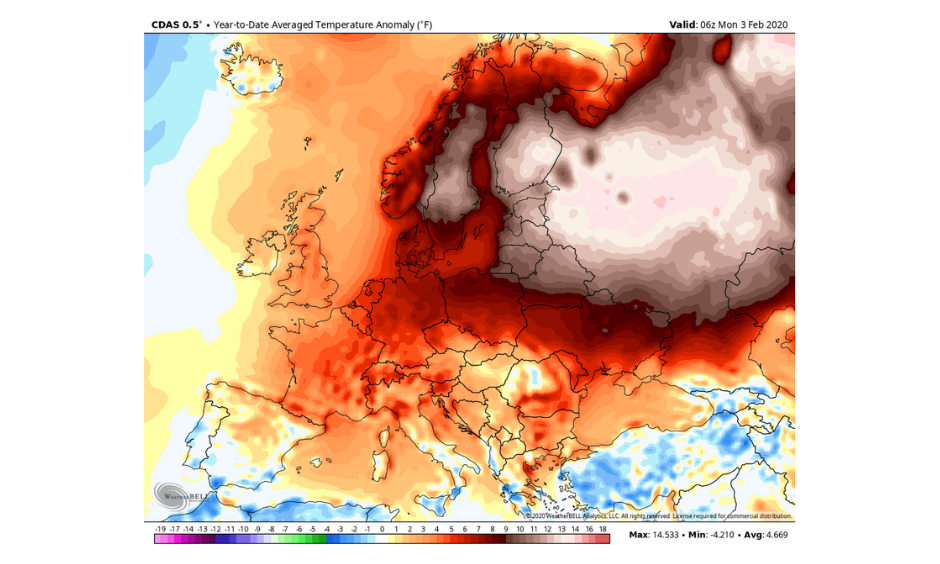 Signals Summary: Climate change is increasing temperatures in all seasons, which is leading to shorter and warmer winters.
---
Article Excerpt: Europe just concluded its warmest January on record, coming on the heels of a toasty December and making the 2019-2020 winter season a contender for the warmest Europe has observed. Although the calendar has flipped to a new decade, there has been no slowing in the growing list of locations experiencing record temperatures amid a quickly warming climate.
...
The month was a staggering 5.6 degrees above the 1981 to 2010 baseline of "average" January temperatures across the European continent as a whole, with much of northeastern Europe surpassing benchmark values by nearly 11 degrees.
It was also Earth's warmest January on record, essentially tying with January 2016. Technically, January 2020 was a hair — 0.054 degrees — warmer.
Helsinki, the capital of Finland, made it above freezing every day in January — bizarre, considering its average January high is only 30 degrees (minus-1.1 Celsius). The typical January morning low? Twenty degrees (minus-6.7 Celsius).
...
The heat wasn't confined just to Europe. "Temperatures were also much above average over most of the USA and eastern Canada, over Japan and parts of eastern China and Southeast Asia, over the state of New South Wales in Australia and over parts of Antarctica," according to Copernicus. The entirety of Russia was anomalously toasty as well.
The zone from Scandinavia to western Russia has endured some of the most anomalous warmth, with many areas seeing temperatures averaging 10 to 15 degrees (5.5 to 8.3 Celsius) above normal since Jan. 1.
...
What's to blame for these toasty temperatures?
"I think it has been the positive [North Atlantic and Arctic oscillations] that has been the dominant reason," Rantanen [a research meteorologist at the Finnish Meteorological Institute] wrote, "but climate change has of course contributed to the warmth."