"The Blob" Disrupts What We Think We Know About Climate Change, Oceans Scientist Says
Graham Island, British Columbia
,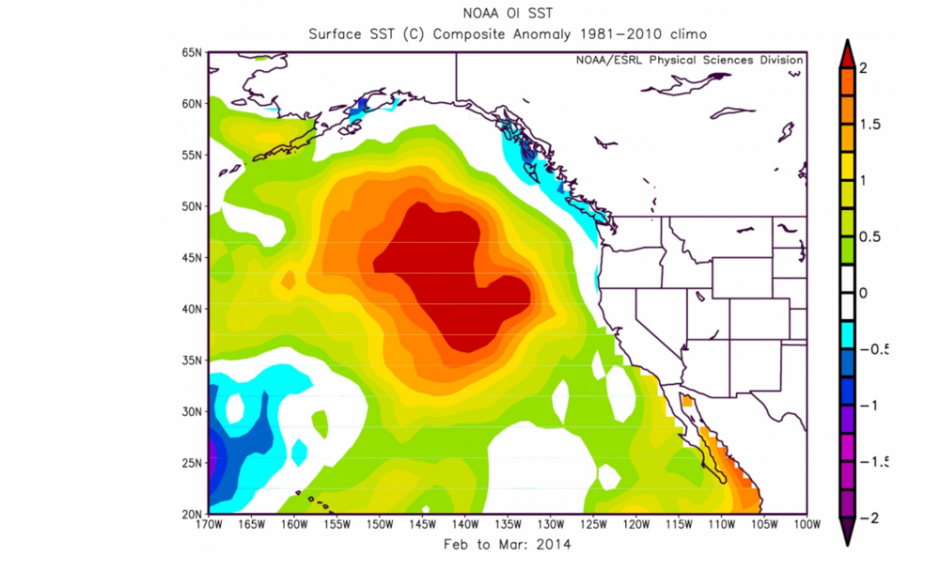 Deep in the northeast Pacific Ocean, The Blob is acting strangely.
When the abnormally warm patch of water first appeared in 2013, fascinated scientists watched disrupted weather patterns, from drought in California to almost snowless winters in Alaska and record cold winters in the northeast.
The anomalously warm water, with temperatures three degrees Centigrade above normal, was nicknamed The Blob by U.S climatologist Nick Bond. It stretched over one million square kilometres of the Gulf of Alaska — more than the surface area of B.C. and Alberta combined — stretching down 100-metres into the ocean...
A change of three degrees is an "extraordinary deviation — something you would expect to happen once in a millennium," he said...
Now, after more than two years of disruption to marine ecosystems, it looks as if The Blob is dissipating, said [associate director for science with Ocean Networks Canada Richard Dewey], who has studied the phenomenon since it appeared. Cold winter storms, that have been absent for almost three years allowing the anomaly to develop, swept across the Gulf of Alaska in November and December, finally dispersing the warm surface waters. But, as oceanographers try to predict what will happen next, Dewey believes it is too early to pronounce the death of The Blob.