California's searing summer to continue; active East Pacific could bring tropical "slingshot"
,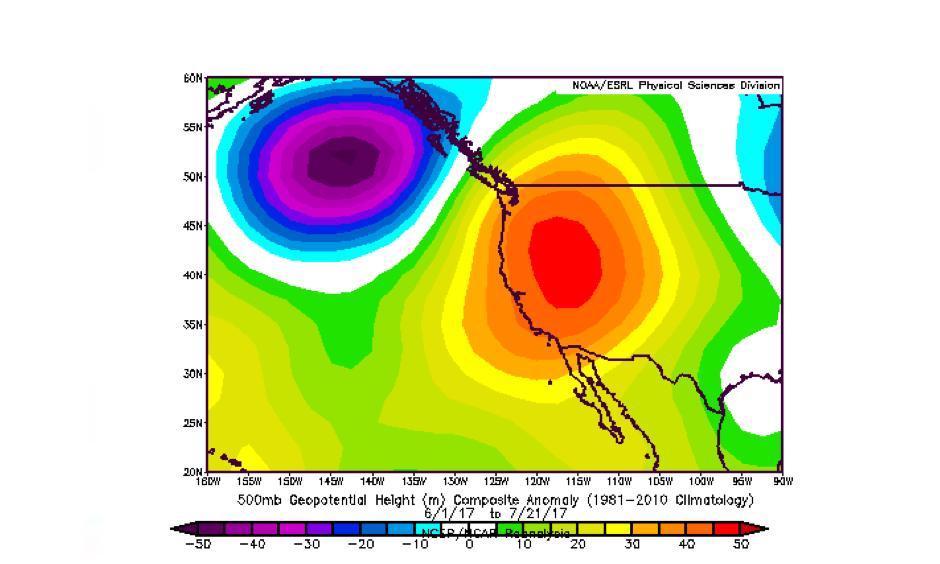 Despite a mild spring across most of California, summer 2017 has been truly searing across most of California away from the immediate coastline. Numerous, prolonged heatwaves have brought an extended period of well above-average temperatures at the height of summer, with temperature falling to around average for only brief periods.
What's causing this extreme inland heat and unusual/uncomfortable SoCal humidity? An unusually persistent ridge has developed somewhat to the west of its typical summertime position over the Desert Southwest, which has favored the occurrence of numerous heatwaves across the CA interior. It has been an exceptionally hot summer so far across the entire American West–not just California–though in recent days a robust monsoonal moisture surge has moderated temperatures across Arizona and Nevada. This ridge is not located quite far enough west to bring very hot coastal temperatures, although it has acted to inhibit the northwesterly winds that normally induce cold water upwelling along the coast and has thereby caused coastal SSTs to rise and overnight coastal temperatures to creep upward.