California will burn until it rains — and climate change may keep future rains away
San Bernardino, CA
Santa Clarita, CA
Ventura County, CA
,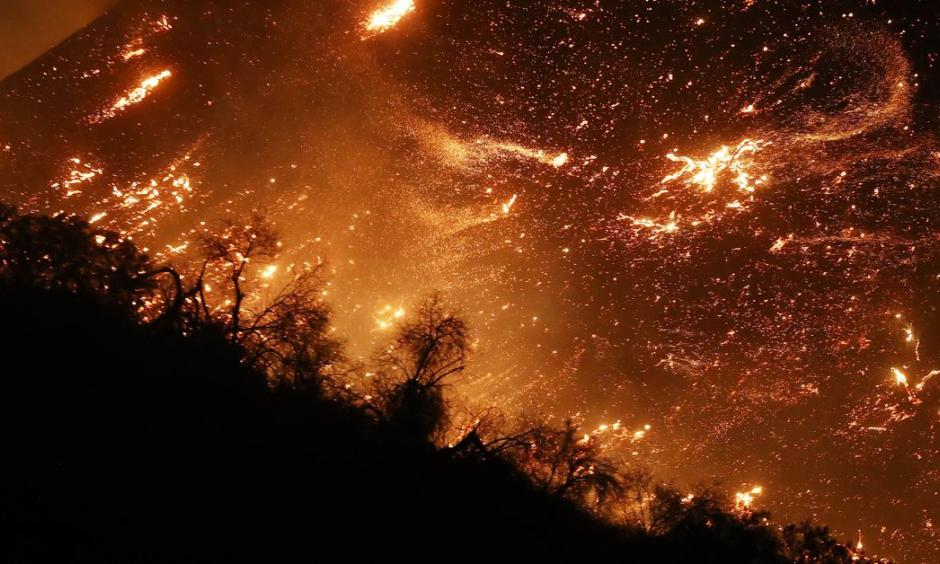 Wildfires are spreading unchecked across Southern California, adding more infernos to the state's worst fire season on record. A warm, dry fall in Southern California and strong offshore winds combined to create dangerous fire conditions that will probably get worse. As the winds continue to blow, a dome of warm, high-pressure air is forming over the West Coast that could keep California dry and flammable for weeks to come.
The largest fire burning in Southern California started in the foothills of Ventura County on Monday evening. Called the "Thomas fire," it spread overnight to burn more than 65,000acres, jumped the 101 freeway, and was stopped only by the Pacific Ocean, the LA Timesreports. Four more fires are raging from San Bernardino to Santa Clarita.
Hot, dry winds blowing up to 70 miles per hour across Southern California are fanning the flames, but those aren't unusual for December, says Daniel Swain, a climate scientist at the University of California Los Angeles and writer of the Weather West blog. Called the Santa Ana winds, these southern counterparts to Northern California's Diablo winds tend to kick up during the fall and continue through the winter.
But something unusual is happening: Southern California's warm winter dry spell, Swain says. "By this time of year, usually, there's been some rain that's wetted things down," he says in a telephone interview, speaking over the Santa Ana winds howling in the background. "It's just as dry as it was in the summer months."
California gets most of its rain between October and May from storms that roll in from the Pacific, riding a highway of strong winds in the upper atmosphere called the jet stream. By now, LA should have been sprinkled by about two inches of rain, National Weather Service meteorologist John Dumas told the LA Times. But so far it's only seen about 5 percent of that, amounting to about one-tenth of an inch. Burbank, California, has seen even less, says National Weather Service meteorologist David Sweet. Despite the rain that's been showering Northern California, the bottom part of the state is abnormally dry; certain areas are even experiencing a moderate drought.
Storms in the jet stream can get diverted by high-pressure bubbles of warm air. A version of this phenomenon called an "atmospheric ridge" is to blame for Southern California's current dry spell.
...
This is the same atmospheric phenomenon that squatted over the state for three winters in a row during California's record-setting, five-year drought.