Climate change is claiming aspen groves — and the history of Basque immigrants in America
by
Public Radio International
,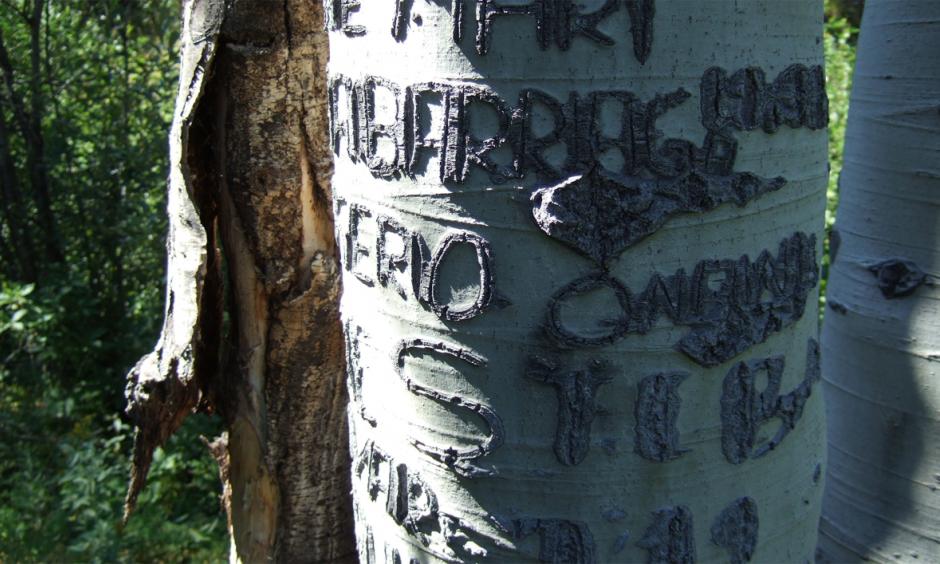 John Bieter never knew his grandfather. A Basque immigrant from Spain, his grandfather had died by the time his grandson was born in Idaho.
But Bieter has found a way to connect with the world where his grandfather walked: names, pictures and messages carved into the aspen groves that cover the mountains surrounding Boise, carved by the last century's Basque sheep herders.
To the average hiker, the carvings probably appear to be just that. But to Bieter and other Basque people in the US, they represent something more. The Basque, native to what are now the Atlantic borderlands of Spain and France, are an ethnic group whose origins are so ancient, their language so old, that nobody quite knows where they came from. Long persecuted in their homeland, many Basques began immigrating to the US in the late 1800s, with many men finding jobs as herders in the West.
During those solitary days in the mountains, those men left small pieces of themselves carved into the white bark of the aspen groves. Think petroglyphs, but carved into trees: "arborglyphs."
...
The fact that the Basque herders carved into trees (as opposed to rocks) always meant the arborglyphs would not be permanent. Not only do the trees heal over time, but anything that can damage the trees themselves — disease, pests, fires like those currently raging across the West — puts existing arborglyphs in danger. The oldest Basque arborglyphs have already been lost. Finding and documenting those that remain, before they disappear, has always been a race against the clock.
Now climate change is running the clock out even faster.
"We're starting to see what we think is another wave of mortality starting," says Bill Anderegg, a biologist at the University of Utah who studies sudden aspen decline, or SAD. "It really seems it's the hot temperatures driven by climate change that are really pushing these trees over the edge."
Anderegg was one of the scientists who documented a massive SAD event that peaked in 2008, when aspen groves across western and central North America succumbed to the type of drought that will only become more common as the planet's climate continues to change. He's starting to see the familiar symptoms again in Colorado: sudden loss of the trees' canopy in as little as a year.
"It was striking to see that," Anderegg says. An aspen grove can die between two and five years after those first signs. "I would say that the threat is increasing to aspens in the West, and the main reasons is that we are doing relatively little to stop climate change."