Cool-Season Tornadoes are Becoming More Common, Especially in "Dixie Alley"
by
Weather Underground | Category 6
,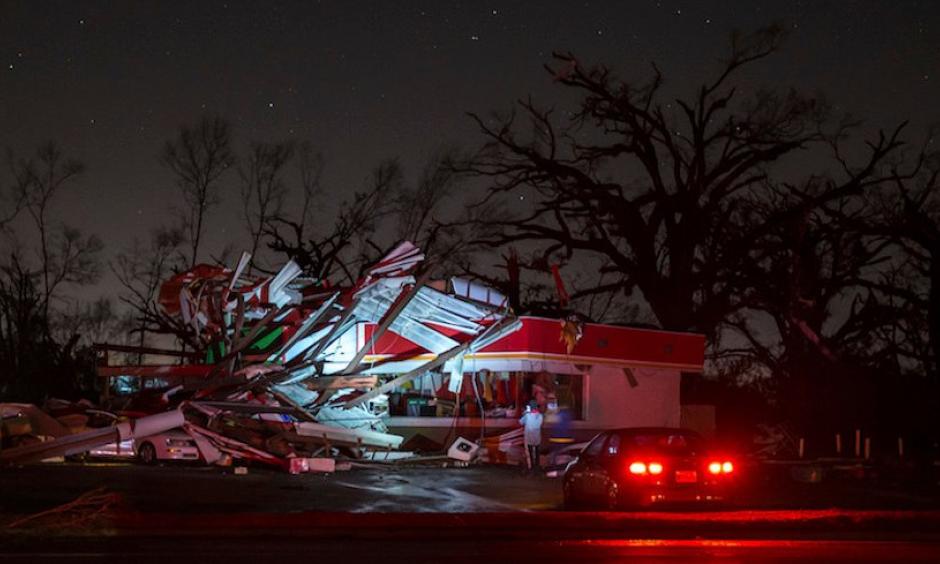 A new study finds that the months of November to February are seeing an increase in average tornado activity, with a shift away from the Southern Plains and a ramp-up over the favored terrain of "Dixie Alley," including Arkansas, Louisiana, Mississippi, Alabama, and Tennessee.
Published this month in Weather and Forecasting, the study was produced by Samuel Childs (Colorado State University), along with Russ Schumacher (CSU) and John Allen (Central Michigan University). The authors examined 4293 tornadoes reported between 1953 and 2015 during the cool-season months from November to February (NDJF).
The latest findings add to an expanding body of work suggesting that tornadoes are becoming a bit less likely in the classic Tornado Alley region and more common across the South and mid-South, especially during the cooler months. "Given that this region has one of the highest societal vulnerabilities in the country, an increase in cold-season tornado activity poses many risks and warrants investigation into potential meteorological influences," the authors note.
U.S. tornado reports have more than doubled since the 1950s. Most of that growth is attributed to increased awareness and to more people filing reports and collecting video. Tornadoes rated F1/EF1 or stronger have increased at the insignificant rate of just 1 twister per decade nationally, according to Childs and colleagues.
However, when looking only at the cool-season months of NDJF, the increase in reported tornadoes is five times greater, or about 5 twisters per decade. That's enough to qualify as a statistically significant increase—albeit with great year-to-year variability. The total number of cool-season tornadoes F1/EF1 or stronger in the study period was as high as 154 (1973-74) and as small as 14 (1993-94).
...
It's not yet clear whether the apparent shift is simply the result of multi-decade variability or perhaps linked to long-term climate change. The second period of the Agee study (1984-2013) was considerably warmer than the first period, which might signal a tendency for tornado production to shift east in a warming climate.
Harold Brooks (National Severe Storms Laboratory), a world expert on tornado climatology, said the study's methods appear to be solid. "We know from basic principles that warm winters give you more tornadoes, and warm summers give you fewer tornadoes. If we warm uniformly across the year, you'd expect the annual cycle to flatten out a bit," Brooks told me.