Current El Niño Ties 1997-1998 as Strongest on Record, Says NOAA
,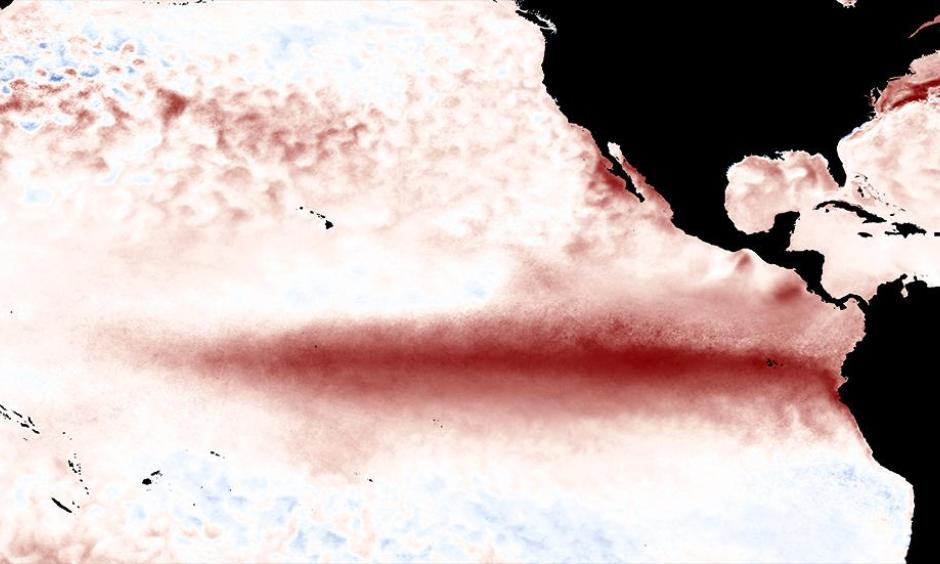 The current El Niño has tied the strongest previous El Niño on record, but appears to have peaked according to data just released this week by NOAA.
Sea-surface water temperatures in the equatorial central and eastern Pacific Ocean over the latest three-month period from October through December 2015 were 2.3 degrees Celsius above average, according to NOAA's Climate Prediction Center. That departure from average, commonly referred to as the sea-surface temperature (SST) anomaly, ties the peak anomaly measured during the 1997-1998 El Niño, the strongest El Niño on record since recordkeeping began in 1950, according to NOAA's Climate Prediction Center.
...
What does all this mean for the rest of winter and spring ahead?
Precipitation and temperature impacts in the U.S. from a strong El Niño are typically most noticeable during the colder months, from late fall through winter.
First, keep these two things in mind:
1) El Niño is not the sole driver of the atmosphere at any time. Day-to-day variability in the weather pattern, including blocking patterns, forcing from climate change and other factors all work together with El Niño to determine the overall weather experienced over the timeframe of a few months.
2) No two El Niños are exactly alike. The intensity matters for impacts.
Looking at past strong El Niños, here are the upshots for temperatures and precipitation through winter in the U.S.:
- Wetter: Southern U.S., particularly in California and the Gulf Coast from Louisiana to Florida
- Drier: Parts of the Ohio Valley, possibly interior Northwest and Northern Rockies
- Cooler: Much of the southern half of the nation, from California to the Carolinas
- Warmer: Northern tier of states from the Pacific Northwest to the Northern Plains, Great Lakes, and Northeast
Keeping in mind no two El Niños are alike, when looking only at the five previous strong El Niños, there are some general commonalities to note headed into winter:
- California's heaviest precipitation has waited until January, continuing through March.
- The Pacific Northwest trends drier later in the winter and spring.
- The overall warm northern tier of states continues through March, but this doesn't preclude occasional Arctic outbreaks.
Note these are impacts that are typically expected, but they aren't always the rule.
Residents of the western states may remember the flooding that struck California during the strong 1997-98 El Niño. In February 1998, a series of storms caused an estimated $550 million in damage and killed 17 people in California. A total of 35 counties were declared federal disaster areas. This fits into the bucket of the wetter-than-average winter you would typically expect in a moderate or strong El Niño