Cyclone Debbie Strikes Australia's Coastline as Thousands Flee
,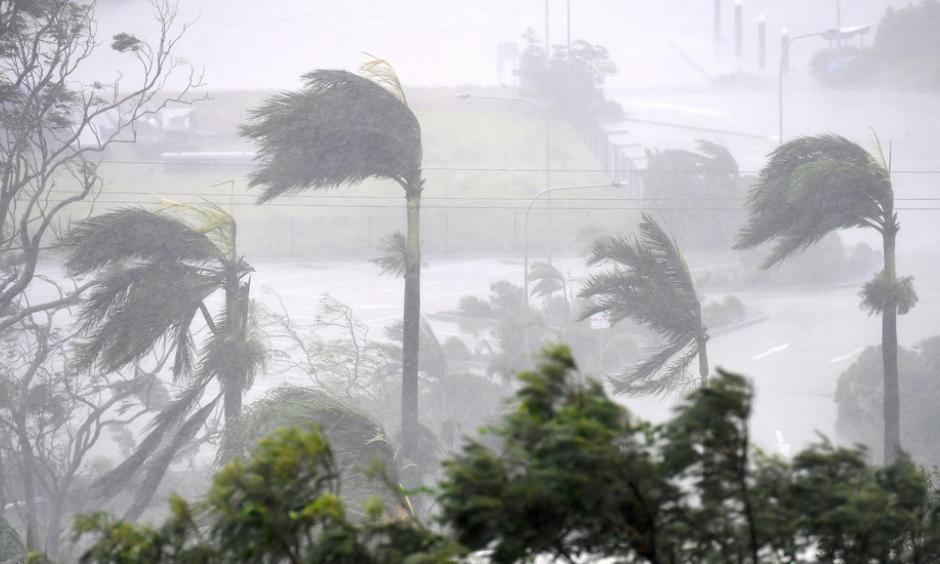 Archivist preface
Climate change has been found to increase the rainfall and extend the storm surge driven by hurricanes. In addition, there is strong evidence that climate change also may be increasing the intensity and wind speed of hurricanes. While the details are still being explored, the basics are simple. Sea level rise extends the reach of the storm surge driven by hurricanes by raising the height of the surge relative to land. The extension of storm surge by sea level rise to date can be considerable along low-lying coastlines where a small increase in the vertical height of storm surge translates into a huge increase in horizontal reach. Rainfall in hurricanes increases as a warmer atmosphere holds more moisture, feeding more precipitation from all storms including hurricanes. Hurricanes are directly fueled by warm water, and climate change warms sea surface temperatures, raising the potential limit for hurricanes and possibly contributing to an increase in hurricane intensity, and with that an exponential increase in wind damage and more powerful storm surge.
There are modest, significant, upwards trends in the lifetime maximum intensity of tropical cyclones (at the 90 percent level) in the South Pacific.[1]
Article excerpt
A menacing Cyclone Debbie struck the northeastern Australian coastline with devastating force Tuesday, slowly churning its path of destruction inland with wind gusts as high as 160 miles per hour, forcing tens of thousands to flee and leaving at least 48,000 homes without power.
After lashing low-lying tourist islands off the coast, the storm bore down on the mainland, tearing roofs from homes and drenching low-lying coastal towns with heavy rainfall. Its slow, potent march inland had officials fearing widespread damage, but the loss of telephone service and power left emergency responders struggling to assess the situation.
...
The storm made landfall around 1 p.m. near the resort town of Airlie Beach, which was hit by winds of up to 160 miles an hour, damaging roofs and knocking over palm trees. By nightfall, it was downgraded to a Category 3 storm, from a Category 4, as it began "curving to a more southerly track over inland Queensland," the Bureau of Meteorology said. A Category 3 storm on the Australian scale typically entails gusts of more than 102 miles an hour.
Ms. Palaszczuk [the premier of Queensland] said it was difficult to assess the damage.
...
The cyclone was of a size that had not been seen in the state since Cyclone Yasi, a severe tropical storm, hit in 2011. That storm, which caused billions of dollars in damage, was one of the most powerful cyclones to have affected Queensland since record-keeping began, according to the Australian Bureau of Meteorology.
The slow path of the storm this week had officials concerned about its destructive force.
"Debbie is a very large, slow-moving system," said John Fowler, a spokesman for Ergon Energy, noting that 48,000 customers were without power in the Bowen, Whitsunday and Mackay areas. "This one is actually taking its time, so the longer it takes, the more damage it will do — not just to our network but obviously to property as well."
Among the longer-term concerns was further damage to the Great Barrier Reef, which has already been seriously degraded by warming waters.
"There's probably quite a lot of reef area in the footprint of Cyclone Debbie that's at risk from damage from the wind and the waves," said David Wachenfeld, director of reef recovery at the Great Barrier Reef Marine Park Authority. "So it's a double whammy for the reef with bleaching."