The Deadliest Fires in California History Aren't Over Yet
,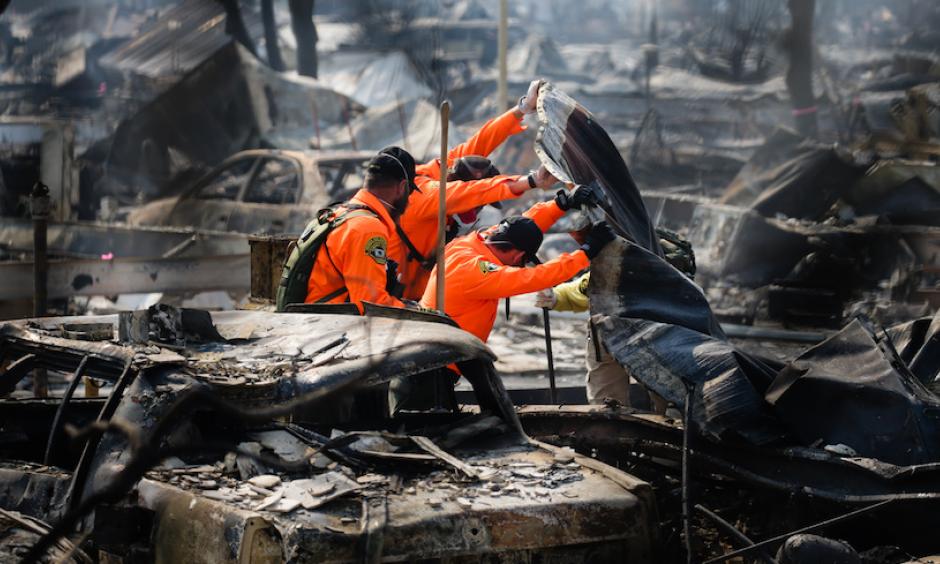 The death toll from the North Bay fires had risen to 32 as of Friday, making the weeklong event the deadliest fire sequence in California history, and the toll is expected to rise as more victims are discovered. The previous record was held by the Griffith Fire in Los Angeles on October 3, 1933, which spread across just 47 acres of Griffith Park but killed at least 29 civilian firefighters. As of Friday, this week's fires had scorched more than 212,000 acres. Although one victim was just 14, many of those killed this week were 70 or older, including a 98-year-old woman and her 100-year-old husband. Sonoma County Sheriff Robert Giordano said: "We have recovered people where their bodies are intact, and we have recovered people where there's just ash and bone."
The acreage burned this week isn't yet a record: several other California fire events have covered more than 200,000 acres. However, the week's fires are the most destructive by far in state history, with an estimated 3500 structures lost as of Friday. The previous record-holder was the infamous Oakland Hills firestorm of October 1991, which consumed roughly 2900 structures.
As our climate warms, temperatures are rising especially quickly during droughts, where most of the sun's heat can go into warming the land and air as opposed to evaporating moisture. California is a classic example of this phenomenon. Temperatures smashed countless records during the state's vicious five-year drought that began in 2011. Droughts are not always unusually warm, but that's more and more becoming the case in our warming climate. In a 2015 study, Noah Diffenbaugh (Stanford University) and colleagues found that human-produced climate change had raised the odds that a drought year in California would also be an exceptionally warm year. The authors added: "A large ensemble of climate model realizations reveals that additional global warming over the next few decades is very likely to create ∼100% probability that any annual-scale dry period is also extremely warm."
California's drought ended in spectacular fashion in late 2016 and early 2017, when the state experienced its second-wettest winter on record. The moisture led to a mammoth burst of vegetation that promptly dried out in the summer. This is a normal happening in California's Mediterranean climate (wet, mild winter and dry, hot summer), but in this case a very wet winter segued into the hottest summer on record. The first two weeks of September were also extremely hot. As NOAA's Rebecca Lindsey put it in a climate.gov analysis this week: "Baked to tinder in the extreme heat, the abundant vegetation of spring became the kindling for these autumn fires."
Winter (December–February) precipitation (top) and summer (June–August) average temperature in California for the period 1896–2017, including the exceptional readings from winter 2016-17 and summer 2017. NOAA Climate.gov graphs, based on data from NCEI's Climate at a Glance tool. Image credit: climate.gov (NOAA)