Debbie's Silver Lining: Cooler Waters and Less Coral Reef Damage
,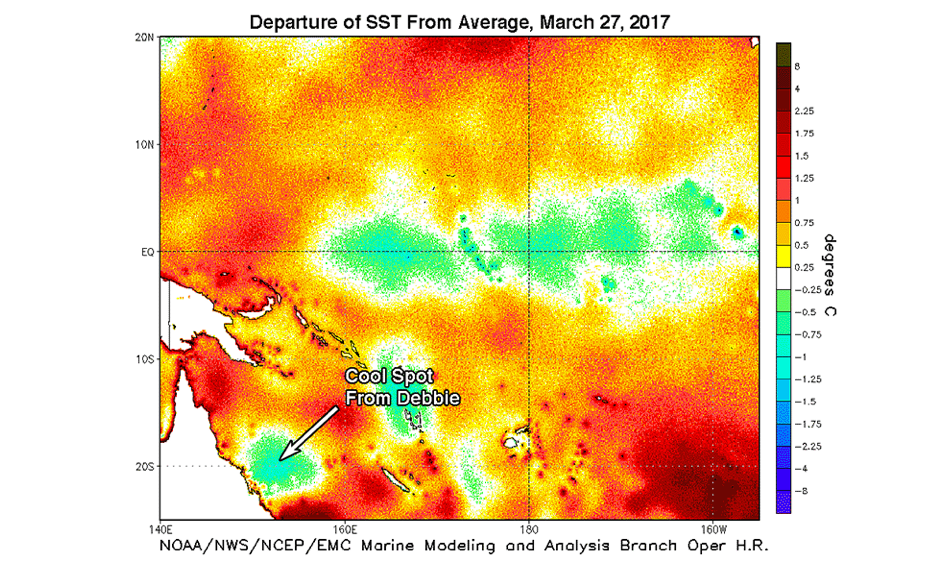 Tropical Cyclone Debbie roared into northern Queensland, Australia, early Tuesday local time, hurling giant waves, fierce winds, and a major storm surge into the sparsely populated coast. Landfall occurred near Airlie Beach at about 12:40 pm local time Tuesday. Debbie's top sustained winds at landfall, averaged over 1 minute (as is standard practice for Atlantic hurricanes), were estimated at 105 knots (120 mph), near the midpoint of the Category 3 range on the Saffir-Simpson scale. Debbie ranked as a Category 4 on Australia's tropical cyclone rating scale, which uses different thresholds and 10-minute wind averaging.
...
Australia's Great Barrier Reef suffered its greatest coral die-off ever observed in 2016, when about two-thirds of the shallow-water coral on the reef's previously pristine, 430-mile northern stretch died. The only thing that saved the southern portion of the 1,400-mile long reef was wind, rain and cloud cover from the passage of ex-Cyclone Winston, which churned up the waters and cooled water temperatures by up to 3°C. As discussed in a paper published this month in the journal Nature, "Global warming and recurrent mass bleaching of corals," Winston passed over Fiji on February 20, when the southern Great Barrier Reef was only 1 °C cooler than the north. By March 6th, this disparity increased to 4 °C. Corals in the south that had begun to pale in February regained their color in the south in March, whereas bleaching continued to progress in central and northern sectors.
...

Hurricanes can alleviate thermal stress on corals by three mechanisms:

1) Hurricanes absorb energy from surface waters through the transfer of latent heat, causing evaporative cooling. The magnitude of the cooling is related to the intensity and extent of the hurricane.

2) Local upwelling brings deeper, cooler water to the surface. The amount of surface cooling resulting from these mixing mechanisms will depend on the hurricane wind speed and how the water temperature varies with depth at each location.

3) Clouds of a hurricane shade the ocean surface from solar heating, allowing the water to cool and reducing light stress.

The benefits of reducing coral reef damage can be economic as well as ecological. Australia relies on the Great Barrier Reef for about 70,000 jobs and billions of dollars annually in tourism revenue, according to a recent New York Times analysis.