Drought and Neglect Have Decimated Iraq's Breadbasket
,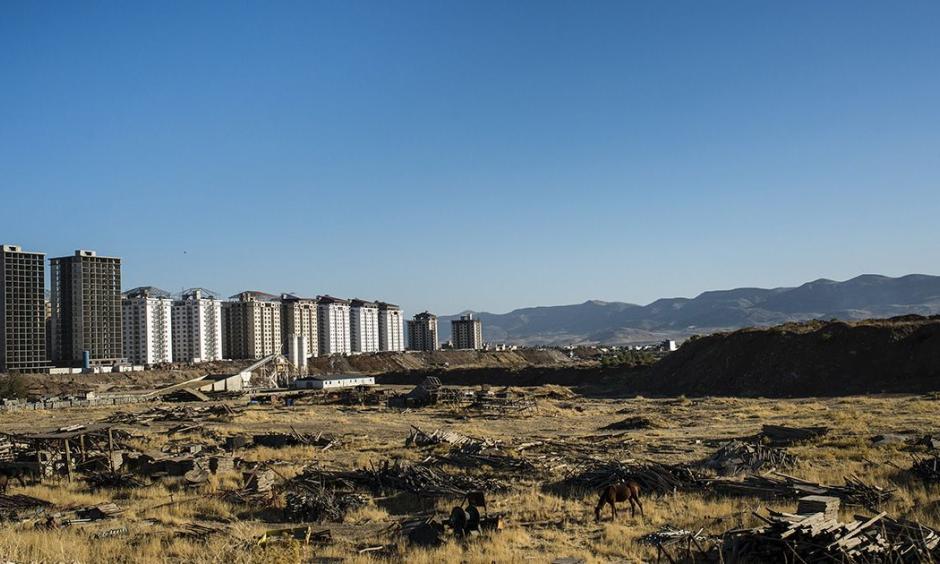 East of the Iraqi Kurdish city of Sulaymaniyah, malls and high-rise apartments give way to cement-block factories, warehouses, and junkyards. Tucked among a freeway, a gravel pit, and a trash heap as tall as a barn, Mohammed Osman plucks herbs from four acres of gray, cracked earth fed by sewage from a nearby drainage pipe.
Fifty years ago, Osman says, his family farmed more than 10 times that area, harvesting rice, watermelons, tomatoes, and cucumbers. Much of the land was seized by local officials to make way for factories—without compensation, he claims. What remains is barely fit to produce animal feed. "Honestly, I'm just keeping myself busy now," Osman says. "This year, I rented three pieces of land and I paid 5 million dinars ($4,300)—and so far, I've only made 1 million back."
Osman's is a common sort of story in Iraqi Kurdistan, where farmers face a dizzying array of problems, from drought and polluted water supplies, to ruthless urban expansion and an influx of cheap imports. Endowed with a temperate climate and fertile soil, the Kurdistan region was once known as Iraq's breadbasket. In 1980 the area supplied about half of the country's wheat, as well as barley and a variety of vegetables. Today the main wholesale market in Erbil, the regional capital, is packed with trucks from Turkey and Iran and produce from as far as China. "We get zero support," one Kurdish farmer says as he unloads tomatoes.
...
In addition to imports, Iraq's Kurdish farmers must also contend with climate change-induced drought and rising soil salinity caused by outdated irrigation methods. A study published this year by Sweden's Lund University found that croplands have become steadily less fertile in the region's Dohuk province over the past decade. "Basically, the land is becoming less productive, which is a problem in the whole Middle East in general," says Lina Eklund, who co-authored the report.