Early Heat Wave Bakes India, Sign of What's to Come
,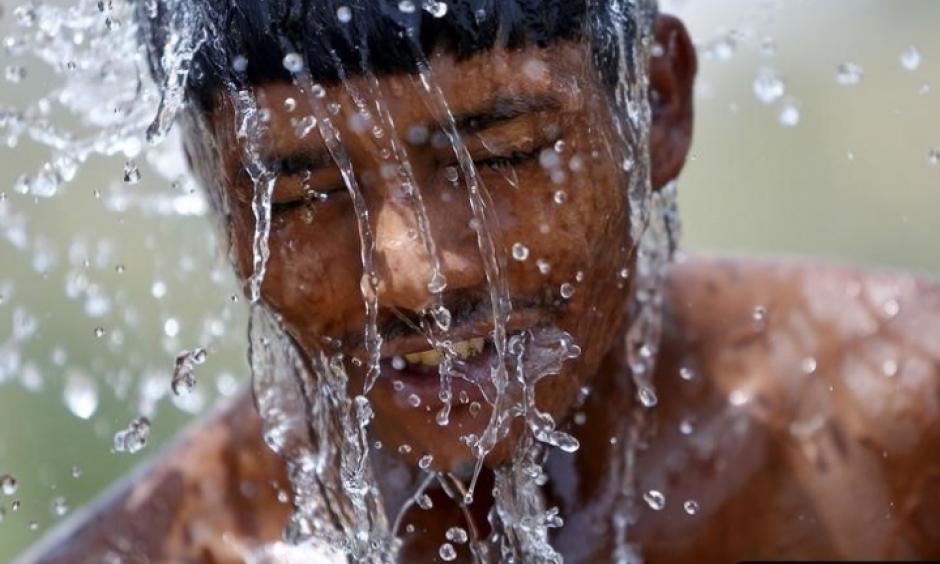 Temperatures across northern India, including the capital New Delhi, are set to soar well above 100°F (37.8°C) through the weekend and into next week thanks to a pre-monsoon heat wave that has set in somewhat earlier than normal.
Such heat waves are expected to become both more common and more intense as the world warms from the continued buildup of heat-trapping greenhouse gases, in India and elsewhere, posing a threat to public health. Studies have suggested that India will be a particular hotspot for populations stressed by the combination of extreme heat and humidity.
...
[T]he heat this year began a bit earlier than normal, with New Delhi recording it hottest March in seven years, Steven Bowen, director of impact forecasting at the reinsurance company Aon Benfield, said.
A few spots in the western state of Gujarat had their hottest temperatures ever recorded in April, all at or above 112°F (44.6°C) on April 13.
"Parts of India have seen anomalously warm conditions for the last couple of weeks, which is a bit earlier than normal," Bowen said.
That heat waves will become more common and more intense is one of the clearest outcomes of human-driven global warming. As average temperatures rise, the heat waves that act on top of them become hotter and hotter and it becomes easier to reach those extreme temperatures.
...
Research has already detected the fingerprints of warming on heat waves occurring today, including previous ones in India, such as a major event in 2015 that killed an estimated 2,300 across the country.
While a study conducted by researchers working with Climate Central's World Weather Attribution program didn't find a clear-cut signal of climate change, a study detailed in a special annual issue of the journal Bulletin of the American Meteorological Society found that the heat indices recorded during that event (as well as a separate one in Pakistan) were about 800 times more likely with climate change.[1] The heat index is a measure that combines the effects of heat and humidity.
When temperatures and humidity are both high, the body's natural cooling system — the evaporation of sweat — is suppressed. The very young, very old and the infirm are the most susceptible to heat stress.
That 1-2 punch of heat and humidity will likely put millions at increased risk of health impacts during heat waves in the future, other research has shown. A 2015 study found that areas of the world where population is expected to rise the most, including India, will also see some of the biggest increases in extreme heat stress events, which combine heat and humidity.
Heat stress is particularly a concern in India, where many people work outdoors, in farming or on construction sites, and there can be a lack of cooling centers and ready access to clean water.