Floods, typhoon could drive up China inflation
Sichuan
Guangxi
Hainan
Hunan
Jiangxi
Fujian
Zhejiang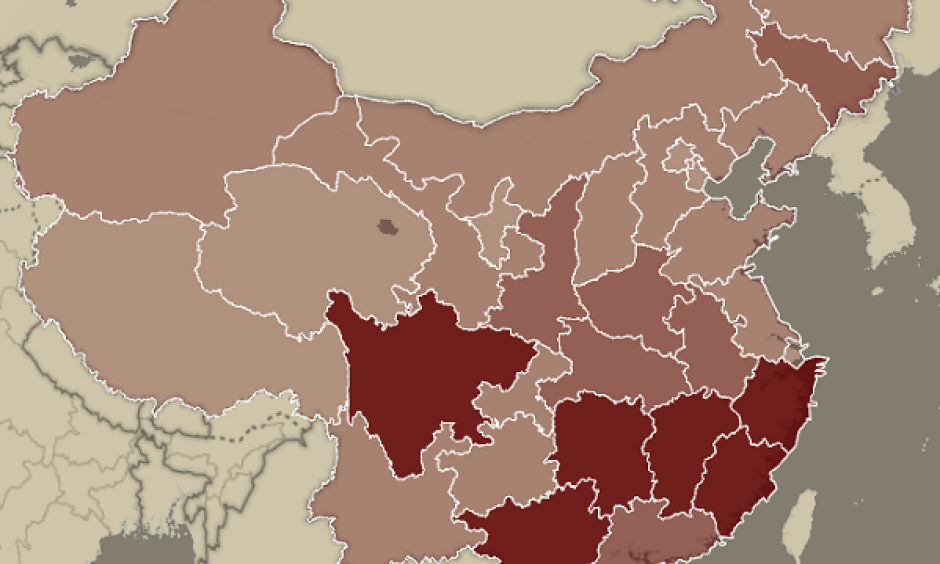 Floods in China for the year-to-date have already taken a heavy toll that could well increase when Typhoon Nepartak makes landfall on the southeastern coast this weekend. But beyond immediate economic impact, two Chinese brokerages argue there's an inflationary angle to the damage as well.
Earlier this week China's State Flood Control and Drought Relief Headquarters released an overview of the floods' impact on southern China, estimating 1.48m people had been temporarily relocated, 186 had been killed, 56,000 buildings had been demolished and damages had reached at least Rmb50.6bn, writes Hudson Lockett.
Many of the hardest-hit provinces are also those most economically vulnerable to floods, according to a 2012 study published in the journal Natural Hazards.
But the economic impact of flooding doesn't disappear once flood waters recede. In a recent report from Guosen Securities, analysts point out that in 1998, 2010 and 2013, major flooding was followed by an uptick in inflation driven by rising food prices.
Pointing in particular to the floods of 2010, they note that annual food inflation rose to 7.2 per cent year-on-year while non-food inflation was up only 1.4 per cent, pushing the headline consumer price index to 2.2 per cent.
Another recent analysis of flooding's impact on inflation in China published by Hua Chuang Securities comes to the same conclusion as the Guosen report, but also argues that floods drive up producer price inflation as well.
The impact this time around may be keenly felt due to the heavy weighting given to pork in China's official basket of goods used to calculate consumer inflation, as the analysts at Guosen note that the seven provinces worst-hit by the latest floods are also home to a substantial portion of China's pig farms.
Worse, many of those are especially vulnerable to flooding due to their small size. While the number of large-scale farms slaughtering over 5,000 head a year more than quadrupled to 226 between 2007 and 2014, big industrial outfits still account for just a sliver of domestic hog farms. Those slaughtering fewer than 50 head a year still made up 94.7 per cent of China's 49.5 million hog farms as of 2014, according to figures from the most recent China Livestock Yearbook.
Stats from that year also show that the seven provinces worst hit by the latest floods were home to 53 per cent of those small-scale farms. Year-end hogs on hand at all farms in said provinces added up to 6.7m, or more than 27 per cent of the national total.
And while China's state media have been quick to trumpet the feel-good story of 3,000 pigs rescued from drowning this week, most hogs in southern China are, statistically speaking, unlikely to see any such rescue mission mounted on their behalves.
If there's any bright spot, it's that Napartak, currently a super typhoon, is expected to have lost some of its steam by the time it makes landfall on the coast of China's Fujian province on Saturday. By then meteorologists expect it to have become a normal typhoon that should degrade further into a severe tropical storm once inland.
But that could prove more than enough to inflict heavier damage still on the region thanks rains this week having kept water levels from retreating to pre-flood levels