Global warming is making Washington's climate more Southern. This winter, it most resembles Atlanta's.
,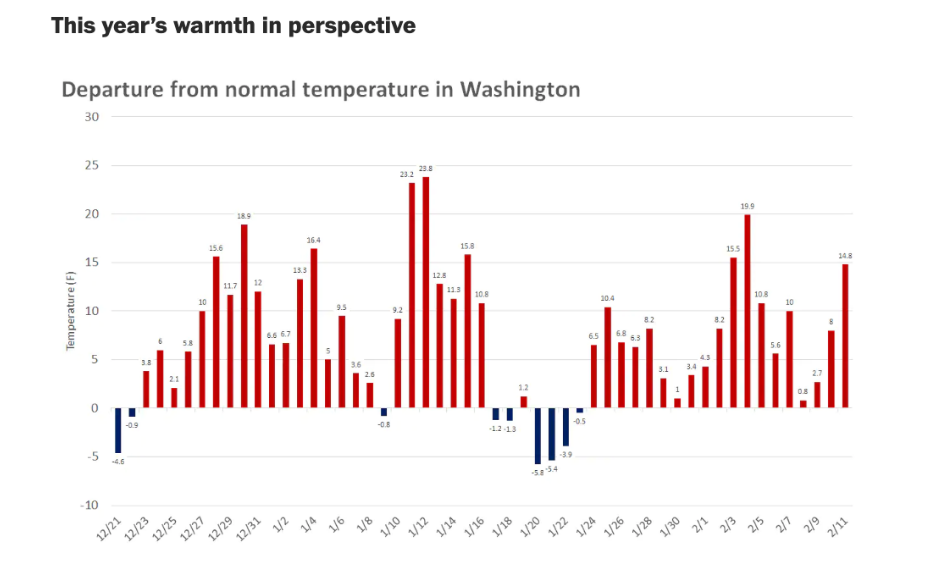 Climate Signals Summary: Climate change is increasing temperatures in all seasons and leading to shorter and warmer winters.
---
Article Excerpt: Since the winter solstice on Dec. 21, Washington's weather has taken an excursion toward a far more southern clime. With an average high temperature of 54 degrees, the weather has best matched the typical winter conditions in Atlanta.
Because of human-induced climate warming, winters like this — characterized by a lack of extreme cold and spotty snowfall — may become the norm this century.
...
Mild weather has been eerily persistent this winter: Of the past 54 days, 45 have been milder than average. On a stretch from December into January, 17 days in a row were milder than normal. Through Wednesday, we have seen a streak of 20 consecutive mild days.
...
"In one regard, this winter's lack of extreme cold is almost unprecedented in the existing climate record for Washington DC," the National Weather Service tweeted. "Only one other winter has failed to drop below 22 degrees by this point — The winter of 1931-1932."
Overall, this winter ranks as the sixth warmest on record dating back to 1872.
...
Data analysis from the Southeast Regional Climate Center shows a striking match between this year's weather in Washington and typical winter conditions in Atlanta. That city's average winter high and low temperatures are 54 and 36 degrees, which is exactly what Washington has seen since the solstice.
...
The mild temperatures this winter are consistent with a warming trend observed since the late 1800s. Washington's average winter temperature has risen at a rate of about 3.4 degrees per century. The average winter temperature has risen from about 35 degrees in the late 1800s to 39 degrees today.
At the same time, average snowfall has declined from around 22 inches in the late 1800s to around 10 to 15 inches today.
Washington's winter climate now resembles Richmond's about 100 years ago.
The observed warming trend is in keeping with the global shift, with warming of about 1.8 degrees observed worldwide since 1900. January tied for the hottest such month on record worldwide, and February is off to an exceptionally mild start as well.
...
Even for a scenario in which greenhouse gas emissions are significantly reduced from today's levels, Washington's climate is expected to most closely resemble that of the city of Paragould in northeast Arkansas by 2080.
For a scenario in which emissions continue unabated, our climate may match that of Greenwood, Miss., where the average winter temperature is 10 degrees higher than Washington's. However, some climate scientists think this aggressive emissions scenario has become less likely, judging by the trends.