Harvey's Hidden Side Effect
Sweeny, TX
Corpus Christi, TX
,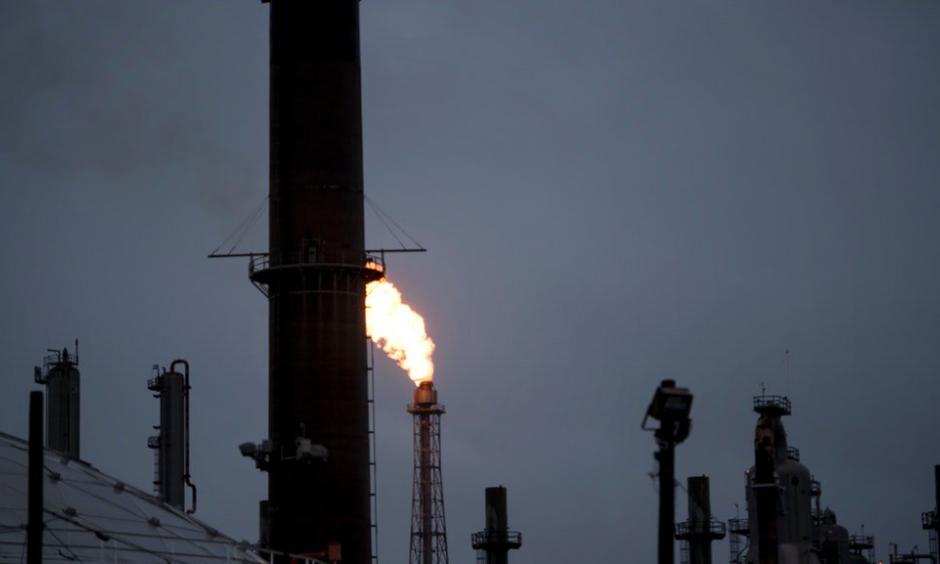 Everything is bigger in Texas, including the number of chemical plants, refineries, and other industrial facilities. So when one of the worst storms in American history hit the heart of Texas' petrochemical industry, it also triggered one of the biggest mass shutdowns the area has even seen. At least 25 plants have either shut down or experienced production issues due to Hurricane Harvey's unprecedented severe weather and flooding, according to industry publication ICIS. But those closures are not only disrupting markets; they're also causing enormous releases of toxic pollutants that pose a threat to human health.
Take Chevron Phillips Chemical plant in Sweeny, Texas. When it shut down due to Hurricane Harvey, it released into the atmosphere more than 100,000 pounds of carbon monoxide; 22,000 pounds of nitrogen oxide, 32,000 pounds of ethylene, and 11,000 pounds of propane, according to a report the company submitted to the Texas Commission on Environmental Quality (TCEQ). A couple thousand pounds of 1,3-butadiene, benzene, and butane were released as well. All of these releases were far morethan what was legally allowed.
...
Between August 23—the day it became clear Harvey would threaten Texas—and August 29, industrial plants reported 74 excess air pollution release events to TCEQ, or nearly 60 percent more than the previous week. Those releases have so far totaled more than one million pounds of emissions above legal limits, according to Air Alliance Houston, an environmental nonprofit that crunched the numbers.
The reason this is happening is simple: Petrochemical plant shutdowns are a major cause of abnormal emission events. The short-term impacts of these events can be "substantial," according to a 2012 report from the Environmental Integrity Project, because "upsets or sudden shutdowns can release large plumes of sulfur dioxide or toxic chemicals in just a few hours, exposing downwind communities to peak levels of pollution that are much more likely to trigger asthma attacks and other respiratory systems."
Air Alliance Houston's Executive Director Bakeyah Nelson is concerned about how these shutdowns will affect nearby communities already suffering from Harvey. "The excess amount of air pollution puts communities in close proximity to these plants at risk, especially people with chronic health conditions," she said. She also noted thatcommunities closest to these sites in Houston—and in general—are disproportionately low-income and minority. Some residents have already been complaining of "unbearable" petrochemical-like smells.