How Climate Change Fuels Wildfires in California
,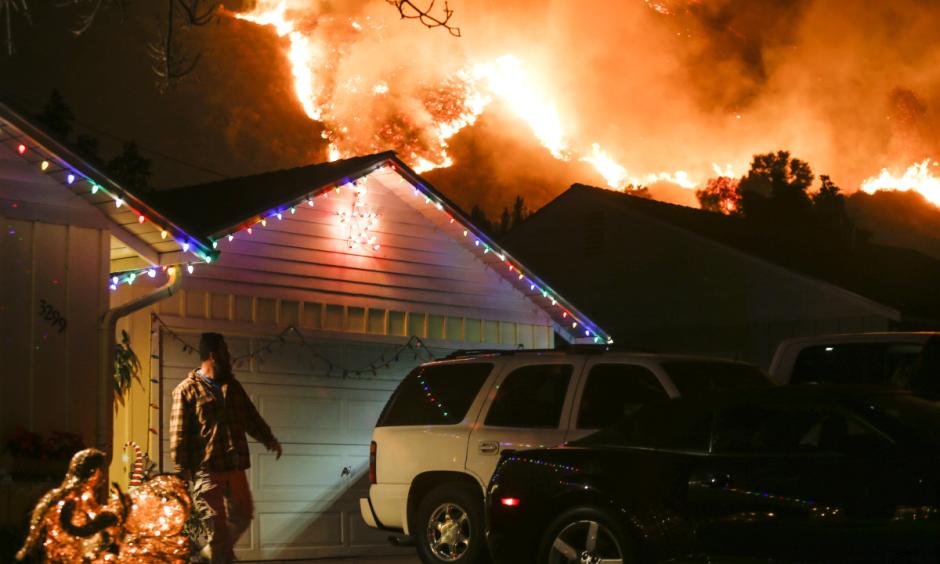 Just two months after a 14-blaze firestorm ravaged Northern California, at least five fires are burning across more than 83,000 acres in Southern California, destroying dozens of structures and forcing tens of thousands of residents to flee their homes.
Near hurricane-force Santa Ana winds in some areas overwhelmed the efforts of hundreds of firefighters; as of Wednesday morning, the two biggest fires—Ventura's Thomas Fire, which has consumed 65,000 acres, and the Creek Fire, which burned 11,000 acres—were still 0 percent contained. Strong winds, with gusts up to 80 mph, are expected to last throughout the week. "There will be no ability to fight fires in these kinds of winds," Cal Fire said of the coming forecast. The National Weather Service is warning of "extreme fire danger" through Friday.
The state's worst fire season on record is only getting worse.
A perfect storm of current conditions led to the most recent firestorm. The end of the summer was marked by record-setting heat waves, and the start of the wet season in California has been usually dry. "Since October 1st, Los Angeles has received just 0.11 inches of rain, more than 90 percent below normal," Eric Holthaus wrote in Pacific Standard. But climate scientists have been sounding the alarm for some time that global warming would add fuel to Western wildfires.
California has two distinct fire seasons: the summer season, when hot temperatures dry out vegetation providing fuel for wildfires; and the fall fire season, when hot, dry Santa Ana winds blow in over the mountains from the desert. Research shows that global warming is making both of them worse.
A 2015 study found that, over a 50-year period, fires in both seasons have become more frequent and more severe—though Santa Ana-fueled fires, which burn along the state's coast, tend to be more economically destructive. A 2014 study found that, between 1984 and 2011, the area burned by large fires increased by roughly 90,000 acres a year. While both studies looked at the effects of large-scale changes in climate on wildfires, neither directly implicated human-caused climate change. However, a 2016 study found that anthropogenic warming doubled the amount of area burned by forest fires between 1984 and 2015.