How Did the Oroville Dam Crisis Get So Dire?
,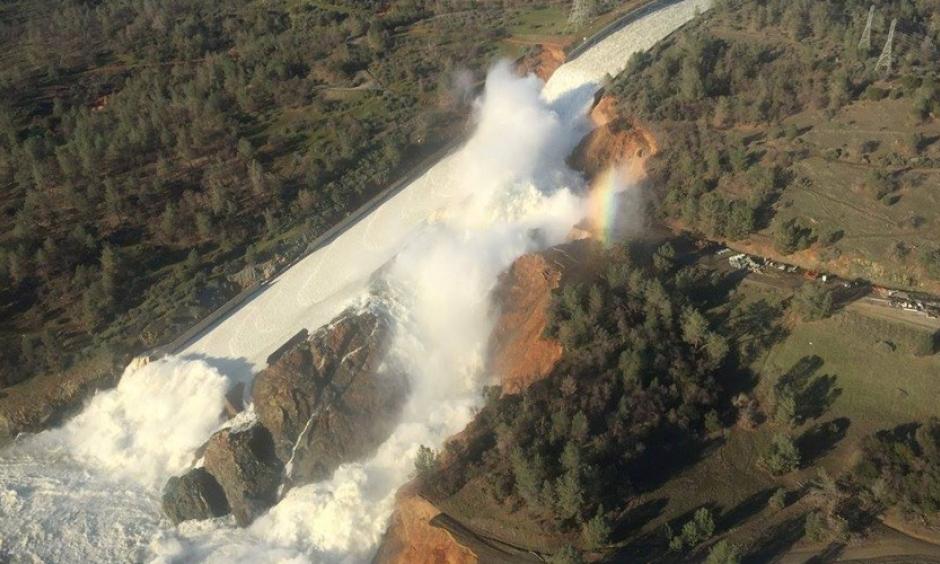 There's some bitter irony to the problem of too much water menacing the Golden State. California has suffered through a long and severe drought, at times driving Governor Jerry Brown to institute stringent—critics say draconian—water controls. This winter has seen much more snow and rain, which is good news for the parched state, but bad news for the Oroville Dam, where huge amounts of water are collecting. The lake rose 50 feet in a matter of days. Earlier in February, as operators let water over a concrete spillway to reduce the pressure, a crater appeared in the spillway. Faced with too much water in the lake, they continued to use the spillway anyway, and the damage got worse. On Friday, the crater was 45 feet deep, 300 feet wide, and 500 feet long.
There's a backup for the concrete spillway, an auxiliary spillway that had never been used. It's really just a hillside sloping down from the reservoir, covered in brush and trees. As the situation became more dire last week, crews starting clearing the slope for its first baptism. Managers hoped pressing the auxiliary spillway into service would give them time to patch up the concrete spillway over what's expected to be a drier season. (That could be easier said than done: Snowpack upstream is 150 percent of normal for this time of year, meaning there's going to be more melt headed downstream than normal.)
...
How did the situation get so dire? One part of that is the seesaw state of the drought, with the weather moving from dry to saturated in a matter of months. (While droughts are a normal part of the globe's climate, scientists say human-caused climate change has exacerbated them, increasing the severity of California's drought by as much as 20 percent.)
...
The Oroville Dam may be the most urgent case in the country at this moment—it's not often that nearly 200,000 people are forced to evacuate—but it's hardly alone. In 2013, the American Society of Civil Engineers conducted its most recent quadrennial survey of the nation's infrastructure, and it gave the U.S. a 'D' for maintenance of dams.
"Thousands of our nation's dams are in need of rehabilitation to meet current design and safety standards," the report said. "They are not only aging, but are subject to stricter criteria as a result of increased downstream development and advancing scientific knowledge predicting flooding, earthquakes, and dam failures."