Irma's storm surge swamps coastal Florida from Key West to Jacksonville
,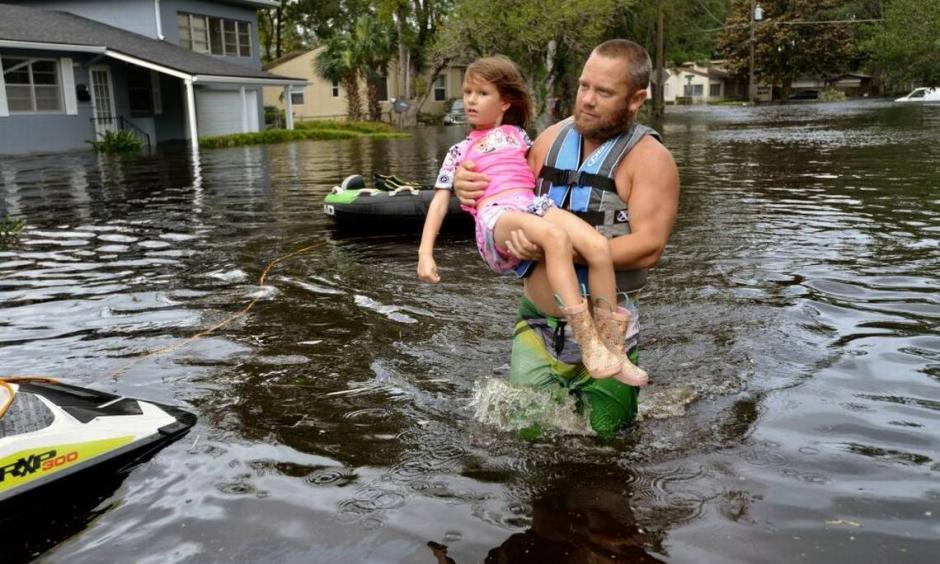 Hurricane Irma's ferocious storm surge and flash floods overwhelmed large sections of Florida with some of the most severe flooding the state has seen in more than 100 years.
After drenching the vulnerable chain of islands in the Keys, followed by parts of Miami, Naples, Orlando, Tampa and Lakeland, Irma finally left town Monday after inundating Jacksonville with flood waters as it spun toward Georgia.
Jacksonville's fast-rising St. Johns River forced residents to frantically seek refuge.
...
"It's a rare event," said Jacksonville Mayor Lenny Curry, who guided his city through Hurricane Matthew last October, "of a magnitude that we have not seen in nearly 150 years."
The scene in Jacksonville was a culmination of Irma's rampage across the state, beginning with its first landfall on Sunday in Cudjoe Key. Areas that have long been prone to flooding, such as historic St. Augustine, also bore the brunt of Irma's fury.
"Epic river flooding," said National Weather Service meteorologist Angie Enyedi in Jacksonville.
By Monday afternoon, unofficial rainfall totals as compiled by the National Weather Service in Miami included 13.6 inches in Inlikita in southwest Miami-Dade, 11.5 inches in Naples, 11 inches in Plantation and 10.3 inches in LaBelle in rural Hendry County.
Gov. Rick Scott, at the U.S. Coast Guard station in Opa-locka, said Tampa experienced 2 to 4 feet of storm surge, and Jacksonville saw 3 to 5 feet of surge, along with a foot of rainfall.