It's official: Alaska just had its warmest year on record
,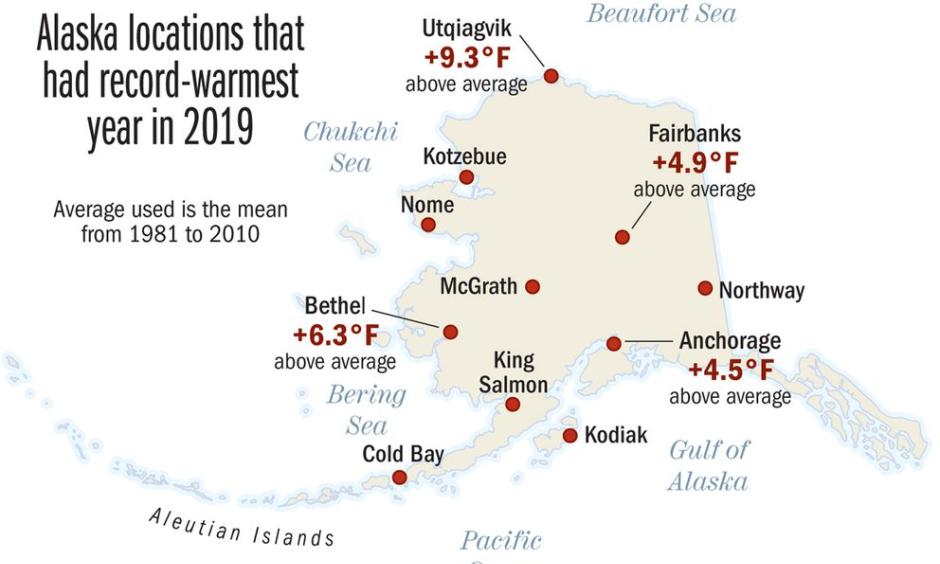 Signals Summary: Climate change has amplified the intensity, duration and frequency of extreme heat and heatwaves, leading to more record hot temperatures. Global warming has also increased the amount of heat absorbed by oceans, which is contributing to sea level rise and glacier and ice sheet melt.
---
Article Excerpt: Although Alaska closed out the year with a chilly December, the state still experienced its warmest year on record, according to a federal agency's analysis.
The average statewide temperature for the year was 32.2 degrees Fahrenheit, the National Oceanic and Atmospheric Administration reported Wednesday. That breaks the previous record for the warmest year statewide, set in 2016 at 31.9 degrees.
...
Anchorage reached 90 degrees for the first time in July, which was the warmest month ever recorded in the NOAA database for Alaska, said Rick Thoman with the Alaska Center for Climate Assessment and Policy at the University of Alaska Fairbanks.
Fairbanks started losing snowpack in March, which "is almost unprecedented" for the city during that month, Thoman said.
...
The five warmest years on record for Alaska happened since the start of the new millennium, and four have taken place since 2014, Thoman said.
"So this isn't a one-off event," Thoman said. "This is part of this multiyear warmth that we have been in."
The heat is due in part to warming seas and melting sea ice, Thoman said.
"That is adding a lot of heat to our atmosphere regionally and is impacting weather downstream from there," Thoman said.
The added heat in the ocean contributed to the lack of sea ice in the Bering Sea, which has been "unprecedented" over the last six years, Thoman said. Sea ice also has been breaking up earlier north of the Bering Strait, in places like the Chukchi and Beaufort seas.
...
The warming trend is likely to continue, given how much heat is already in the ocean, Thoman said.
"Even if we were to eliminate all carbon, all greenhouse gas emissions tomorrow, the oceans would continue to warm for decades," Thoman said.