It's So Hot in Phoenix, Planes Can't Takeoff
Sacramento, CA
San Jose, CA
Palm Springs, CA
Fresno, CA
Death Valley, CA
,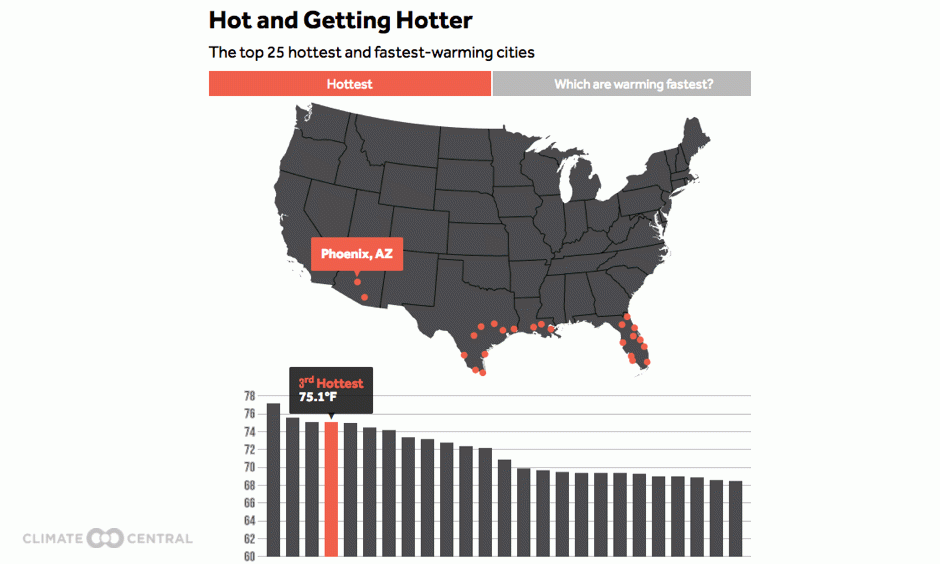 Heat waves are intimately tied to climate change as rising background temperatures make them more intense and common. The latest batch of heat will cook an area from northern California to western Texas, a region home to some seven of the 10 fastest-warming cities in the country.
Temperature records have already fallen across California and heat will build throughout the week. Sacramento, San Jose, Palm Springs, Fresno and Death Valley all set daily highs on Monday. But the hottest temperatures aren't even expected to arrive until Tuesday. They'll last through Thursday, and forecast highs mean the region could set all-time records.
...
"Across the world we're finding that we can link unusually warm weather events to climate change," Andrew King, a climate researcher at Australia's ARC Centre for Excellence, told Climate Central in March following February's intensely mild weather. He added climate change is almost certainly playing a role in almost all extreme heat events "for most of the world."
While the heat wave this week in the West has not been specifically attributed to climate change, it's probably safe to say background warming is playing a role and the impacts we're seeing will only become more pronounced in the future.
Take the grounded flights, for example. They're what one group of scientists have dubbed a "hidden cost of climate change." That's because higher temperatures generally translate to thinner air, making it harder for airplanes to take off. The solution is either to ground flights or bump people and packages to make planes lighter.