It's Official: Illinois Set a New All-Time Record Low of -38°F on Jan. 31
by
Weather Underground | Category 6
,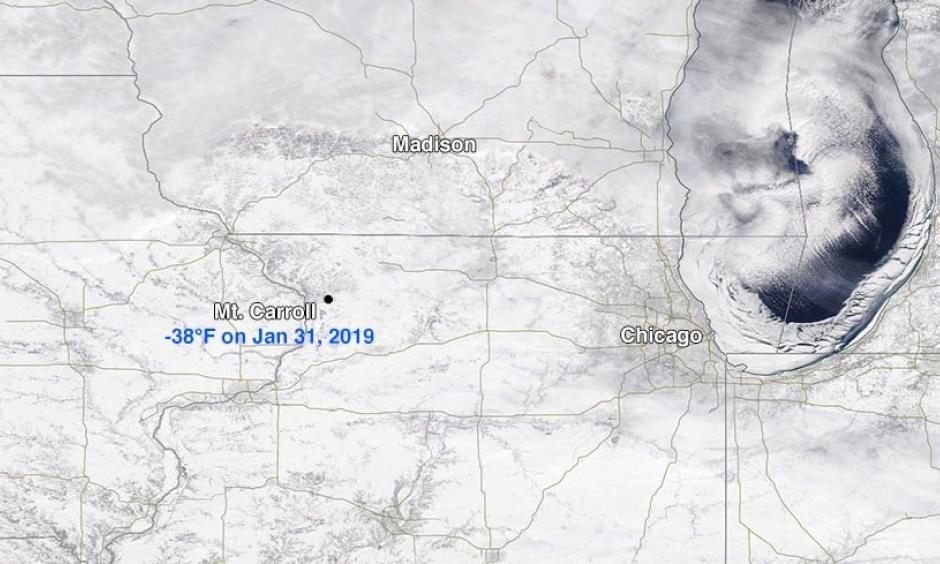 The remarkable "polar vortex" cold blast that froze the Midwest U.S. during late January and early February set a new all-time cold record for the state of Illinois, a NOAA-led team concluded on Wednesday. The -38°F temperature recorded on January 31, 2019, at Mount Carroll, Illinois, has been officially confirmed as the all-time state cold record, beating the previous record of -36°F set Jan. 5, 1999 in Congerville. Mt. Carroll is about 240 miles west-northwest of downtown Chicago, near the Mississippi River in northwest Illinois.
...
Seven other locations near Mt. Carroll also reported lows of -30°F or colder that morning, eliminating the possibility that the Mt. Carroll reading was a result of instrument failure. The National Weather Service in Davenport, Iowa, which serves northwest Illinois, confirmed the instrumentation was in good working order and that proper procedures were followed. Daily temperature observations have been taken in Mt. Carroll since 1897.
...
Because they depend so much on very particular local configurations of events, and because they are so few in number, all-time state highs and lows are a poor index of long-term climate change. A much better climate-change index is the number of daily record highs and lows. Because thousands of daily highs and lows occur every year in the United States, there is more statistical power in any conclusions one might draw from them. Since the 1970s, there's been a clear trend toward more daily record highs and fewer daily record lows, as shown by independent meteorologist Guy Walton and others.
As of Thursday, NOAA's Daily Weather Records site showed that the last 365 days had seen 18,633 daily record highs but just 11,313 daily record lows.