As the Maldives Gains Tourists, It's Losing Its Beaches
,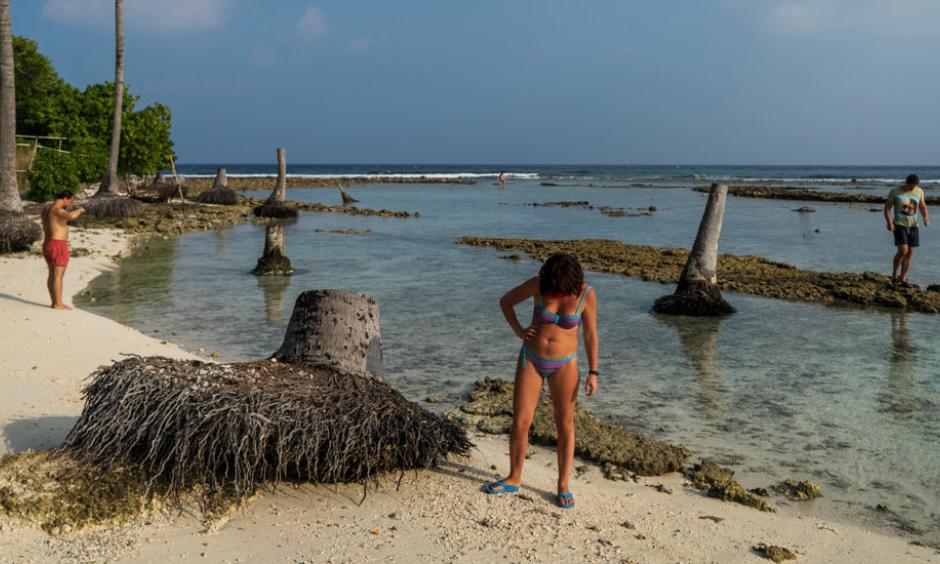 Guesthouses have proliferated across this archipelago in the Indian Ocean, as the Maldives shifts away from catering to the über-rich and welcomes budget-conscious travelers.
But unlike resort islands, which spend millions of dollars on constructing sea walls, dredging sand and hiring marine biologists, islands with small-scale guesthouses are mostly reliant on the government for protection from shore erosion and rising seas, which many on Guraidhoo attribute to climate change.
Residents say the funds for conservation projects are available in the form of tourist taxes, paid through business owners to the government. The problem, they say, is that it is unclear where the money is going — or whether it ultimately can save the world's lowest-lying country.
"If the Maldives don't exist, we're not losing just 400,000 people," said Maeed Mohamed Zahir, the director for advocacy at Ecocare, an environmental organization based in Malé, the capital.
"We're losing a nationality, an identity, a cultural history, a language, a script," he added. "We're losing the beaches. We're losing the coconut palms. We're losing everything."
For most of the Maldives's history as a tourist destination, its government prohibited visitors from staying on the 200 islands inhabited by locals. Instead, foreigners were ferried to privately owned resort islands where villas jutting out into the ocean are the norm.
But after the 2008 election of Mohamed Nasheed as president — the first democratically elected leader after 30 years under autocracy — a law was passed that allowed residents to open guesthouses.
Although the tourism industry is still dominated by villas rented for thousands of dollars a night, foreigners can now book more modest accommodations for as little as $30. Around 400 guesthouses are registered in the Maldives.