Meteorological winter is over. How'd we do?
,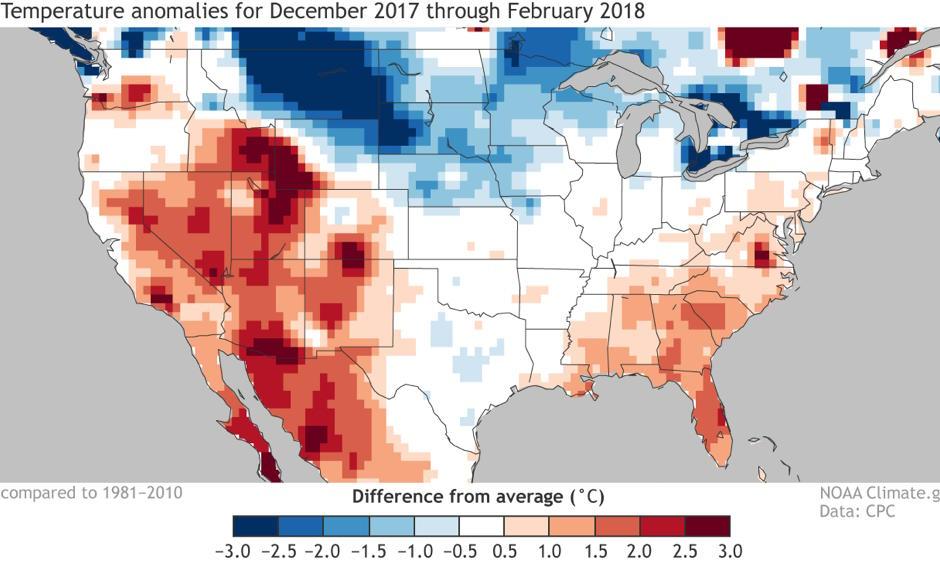 Winter was much warmer than average across northern, central and western Alaska, the southeast and southwestern parts of the country, while the High Plains, parts of the Pacific Northwest, southeastern Alaska, and southern Texas experienced below normal temperatures. Elsewhere, temperatures were around average.
...
What about precipitation?
Precipitation is usually harder to forecast than temperature, as one big storm can have a large impact on the seasonal totals. This leads to a much noisier observed pattern than temperature. This year's winter outlook forecasted higher chances for a drier-than-normal winter across the southern tier of the United States and higher chances for a wetter-than-normal winter across the northern United States—a generally La Niña-like pattern.
In reality, the western and southeastern regions of the United States observed a drier-than-average winter, while the Missouri and Ohio River Valleys, Great Lakes and western High Plains recorded a wetter than average winter. Not too bad! If we look at the verification number, the outlook scored a HSS of 23 (or a 32 if we only looked at locations with one favored outcome). Remember, a score of 0 would mean we got it right no more often than we'd expect by chance. So, this is a good score for a precipitation outlook when we consider how difficult it can be to predict precipitation.