New report highlights Alaska's last five years of dramatic climate change
,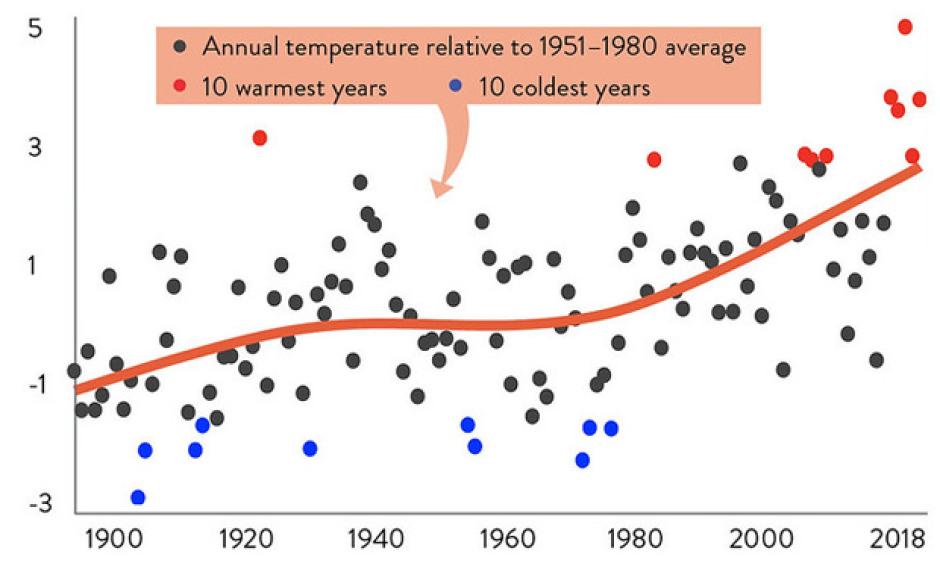 Alaska's climate is changing, thanks to human-caused global warming, and the effects are widespread and sometimes dangerous.
...
...Alaska is warming faster than any U.S. state. Alaska's Changing Environment notes that, since 2014, there have been 5 to 30 times more record-high temperatures set than record lows.
On July 4, 2019, all-time temperature records were set in Kenai, Palmer, King Salmon, and Anchorage International Airport. Remarkably, Anchorage hit 90 degrees Fahrenheit; the average summer temperature in Anchorage is normally in the mid-sixties. July 2019 was the hottest month in recorded history for the state. June 2019 was the second warmest on record.
These extremes on land are surpassed by what's going on in the sea. Alaska's Changing Environment affirms, "Nothing in the Alaska environment is changing faster than sea ice." Today, typical summer ice extent on the Chukchi Sea is only 10% of what is was in the early 1980s, and the Beaufort Sea ice-over usually occurs two to three weeks later in the fall than in past decades. In 2018 and 2019, late winter ice coverage in the Bering Sea's Alaska waters was significantly lower than any winter in the last 170 years. Surface waters along Alaska's west coast were 4–11ºF warmer than average this summer.
...
"Alaska is built for seasonal cold," said [Alaska Climate Specialist] Rick Thoman. "Whether it's modern housing, transportation in the vast roadless areas of the state, or traditional food storage methods, warming is disruptive and brings stress, risk, and hardship to many."