Ophelia Becomes Record-Tying 10th Straight Atlantic Hurricane; May Affect Ireland Next Week as an Intense Post-Tropical Storm
,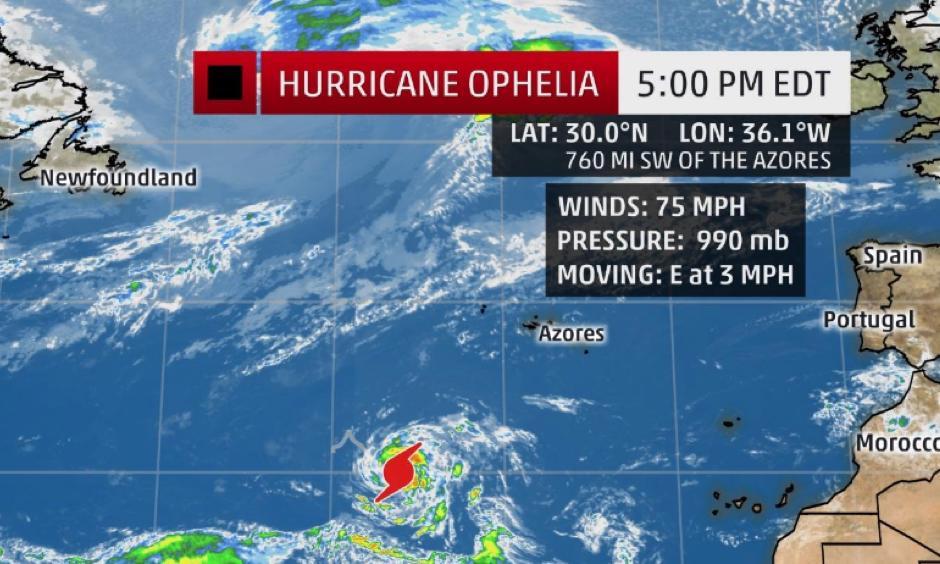 Ophelia has strengthened into the latest Atlantic hurricane of 2017 and remains no threat to the United States, but could potentially brush parts of the Azores this weekend. From there, Ophelia has an interesting post-tropical future next week near the Irish Coast.
Ophelia is the 10th consecutive Atlantic named storm to become a hurricane in 2017.
This ties the record for the most consecutive Atlantic named storms reaching hurricane strength, which also happened in three other years: 1878, 1886 and 1893, according to Dr. Phil Klotzbach, Colorado State University tropical meteorologist.
There are a couple of caveats to this record, however.
"Lee could easily be counted as two storms," tweeted Brenden Moses, a University of Miami hurricane researcher specializing in the historical hurricane database.
After briefly becoming a tropical storm, Lee degenerated into a remnant low on Sept. 18 about halfway between West Africa and the Lesser Antilles. Four days later, Lee sprung back to life as a tropical cyclone and eventually strengthened to a Category 3 hurricane on Sept. 27.
Moses later tweeted that if separated, there would be a tropical storm, then a separate hurricane, which would make the 10-straight-hurricane record invalid. This type of post-analysis occurs after every hurricane season, sometimes leading to the addition of previously unnamed storms or tweaking of tropical cyclone intensities.
The other disclaimer about tropical cyclones before satellites were routinely used to examine the entire tropical Atlantic Basin in 1966 is that some tropical storms – even hurricanes – may have been missed that could have influenced any streaks, especially in the 19th century.