Relentless High Water Won't Let Miami Go
,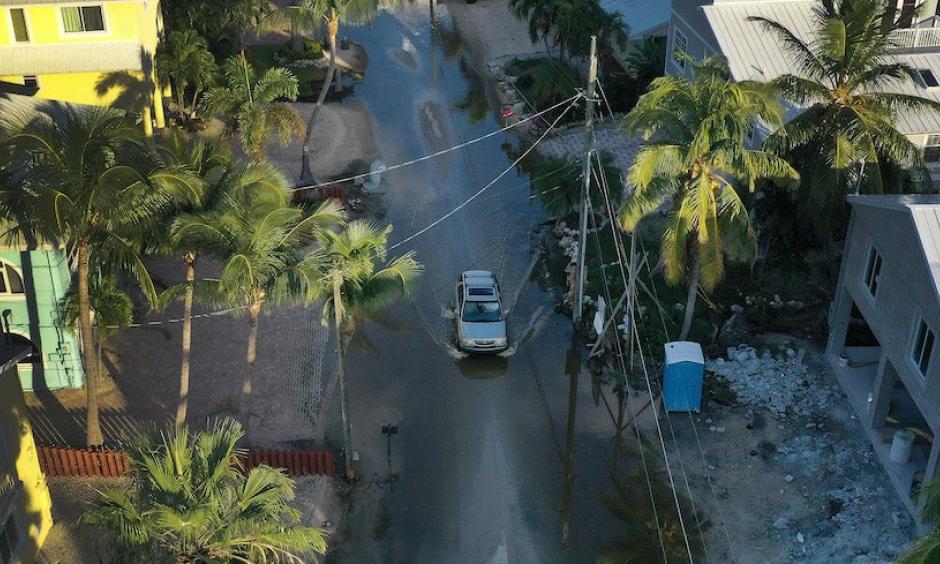 This is the autumn of Miami's discontent. King tides driven by astronomical factors are a regular part of life on the Southeast coast in autumn, but in the last few months—and especially over the last few days—the high water keeps coming back, again and again, especially on the southeast coast of Florida. A slowly evolving nor'easter that followed a long period of onshore flow late last week led to flooding that was largely minor, but widespread and prolonged, in the Miami area and along other parts of the Southeast coast. Eight solid days of continuous minor flooding ended on Wednesday in Charleston, South Carolina.
Brian McNoldy (University of Miami) has kept a close watch on the relentlessly high tides. He's pored over data on the water levels at Virginia Key, on Biscayne Bay about a mile east of downtown Miami, at 6-minute intervals going back to 1994. "There's a difference in impact if the water level just touches a threshold for a single observation or if it sits well above it for several hours (i.e., a flooded road)," said McNoldy."
...
What's transpired this fall in Miami Beach is right out of the playbook of impacts from our human-warmed climate. When thinking about sea level rise, the focus tends to be on long-term inundation—the doomsday scenario of cities eventually going completely under water. However, the effects are already playing out consistently in places where minor but troublesome "nuisance" or "sunny day flooding" at high tide is fast becoming the norm.
Subsidence is accentuating sea level rise from global warming in some locations, such as the mid-Atlantic coast. This isn't a factor in Southeast Florida, which is underlaid by a limestone substrate. "It's quite firm and quite stable—but unfortunately it's quite porous, so it has quite a few conduits for ocean water to make its way through by infiltration," said NOAA oceanographer William Sweet, who specializes in nuisance-flood issues. The porous nature of the substrate makes seawalls an impractical long-term solution for sea level rise in Southeast Florida, since seawater would still be able to push its way through the substrate below any seawall and bubble up into streets and sidewalks, much as it's already doing.