Rising Seas Are Flooding Virginia's Naval Base, and There's No Plan to Fix It
,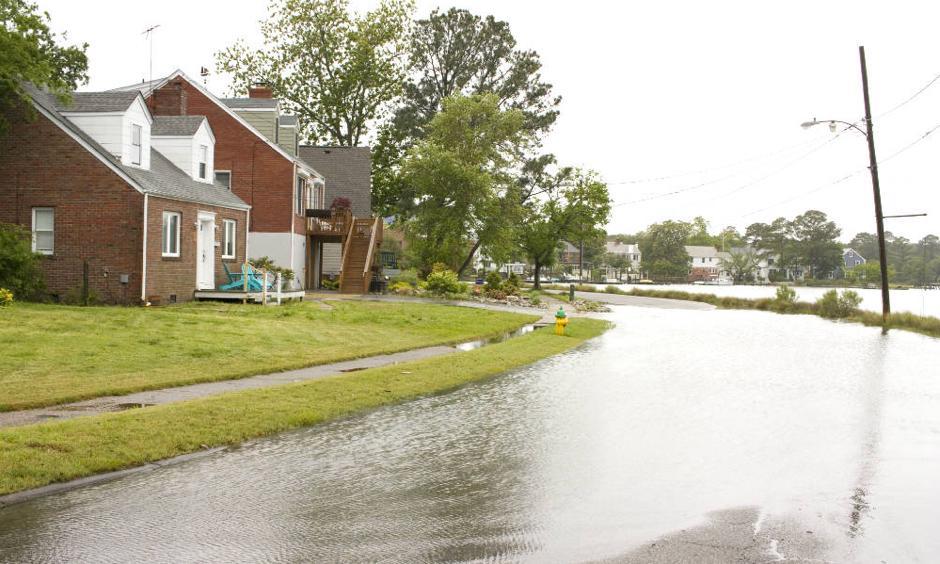 The one-story brick firehouse at Naval Station Norfolk sits pinched between a tidal inlet and Willoughby Bay. The station houses the first responders to any emergency at the neighboring airfield. Yet when a big storm hits or the tides surge, the land surrounding it floods. Even on a sunny day this spring, with the tide out, the field beside the firehouse was filled with water.
"It's not supposed to be a pond," said Joe Bouchard, a retired captain and former base commander. "It is now."
Naval Station Norfolk, home to the Atlantic Fleet, floods not just in heavy rains or during hurricanes. It floods when the sun is shining, too, if the tide is high or the winds are right. It floods all the time.
"It is an impediment to the base accomplishing its mission," Bouchard said.
Once or twice a month, seawater subsumes steam lines that run along the bottom of the piers where the fleet's ships are moored. It bubbles up through storm drains and closes roads. "It can actually shut down operations, or make it very difficult for people to get around," Bouchard said.
Climate change poses an immediate threat to Norfolk. The seas are rising at twice the global average here, due to ocean currents and geology. Yet while the region is home to the densest collection of military facilities in the nation, the Pentagon has barely begun the hard work of adaptation. A detailed study in 2014 by the U.S. Army Engineer Research and Development Center identified about 1.5 feet of sea level rise as a "tipping point" for the base that would dramatically increase the risk of serious damage to infrastructure. But there is no plan to address this level of rise, which scientists expect within a few decades.
The city of Norfolk, which surrounds the base, is also under siege. Sections of the main road that leads to the base become impassable several times a year. Some residents check tide charts before leaving for work or parking their cars for the night.