Southwest fire threat called 'extreme to historic' amid brutally hot and dry conditions
,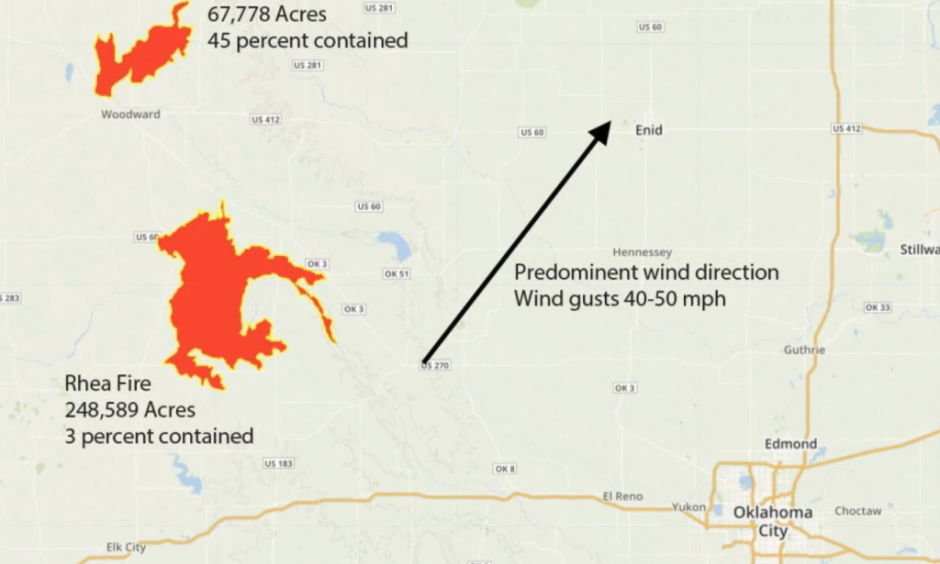 The Rhea Fire is Oklahoma's third megafire in three years. In March 2017, the Northwest Oklahoma Fire Complex consumed more than 800,000 acres. In March 2016, it was the Anderson Creek Fire, which raced across the Oklahoma-Kansas border and torched nearly 400,000 acres. (Even though only part of the fire was in Kansas, it still qualified as that state's largest on record.)
In an excellent post on the fires, Weather Underground's Bob Henson tried to make sense of why fire danger in Oklahoma is becoming more extreme. He boils it down to two major players: climate change and a change in land use:
Echoing a global trend that's associated with human-produced climate change, Oklahoma has seen signs of a ramp-up in hydrologic extremes over the past few years.

May 2015 was the state's wettest single month on record, and 2015 was its wettest year. "The November-December 2015 period was the wettest on record as well, and the sixth warmest. So the growing season extended into winter to some extent that year," said [Oklahoma state climatologist Gary McManus]. The result was an unusually lush landscape going into the first part of 2016 that dried out quickly in the weeks leading up to the Anderson Creek fire.
The same thing happened in 2017, which was dry up until August — right when the state's normal wildfire activity would cut back on the vegetation