Super Typhoon Nepartak May Be Strongest Taiwan Landfall in 16 Years; Heavy Rain A Threat in Eastern China
Orchid Island, Lanyu Township, Taitung County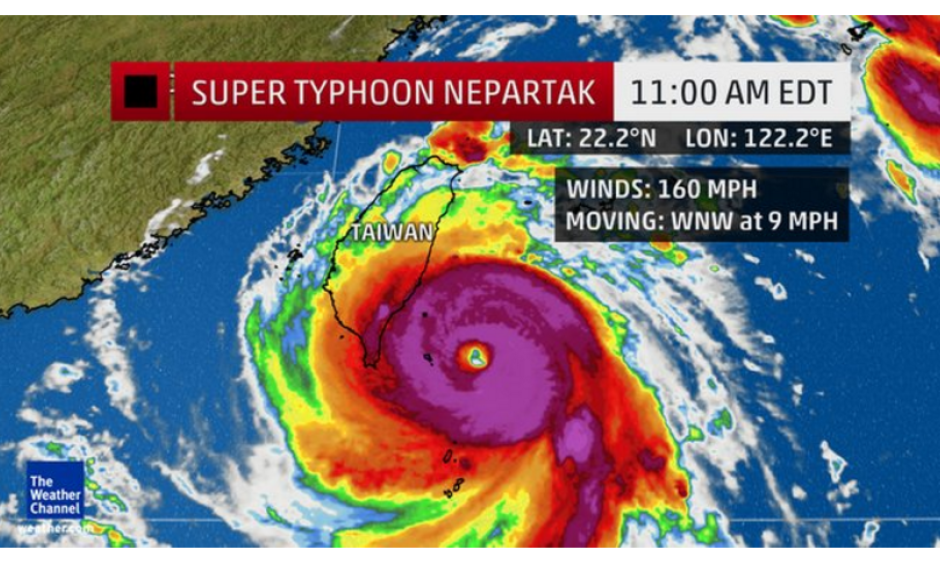 Super Typhoon Nepartak is bearing down on Taiwan and may be the strongest landfall on the island in 45 years of reliable records.
Nepartak is still a Category 5 equivalent tropical cyclone, packing maximum sustained winds of 165 mph, according to the U.S. Joint Typhoon Warning Center as of Thursday morning, U.S. Eastern time, about 250 miles south-southeast of Taipei, Taiwan...
Nepartak peaked Wednesday, packing maximum estimated sustained winds of 175 mph, becoming the strongest typhoon since Super Typhoon Souldelor in August 2015.
While reconnaissance aircraft missions to precisely measure the typhoon's intensity are not flown over the western Pacific Ocean (but will resume in 2017), a Taiwanese buoy in the center of Nepartak's eye measured a central pressure of 897 millibars late Thursday night, local time, according to Dr. Brian McNoldy, senior research associate the University of Miam's Rosenstiel School.
Tropical cyclones of this intensity are much more common in the western Pacific basin than the Atlantic or eastern Pacific basins, but, for perspective, these central pressures are roughly on par with the peak intensities of Hurricane Camille (900 mb) and Hurricane Katrina (902 mb)