Tropical Storm Michael Spreads Flooding Rain, Wind Into Carolinas, East After Historic Category 4 Florida Panhandle Landfall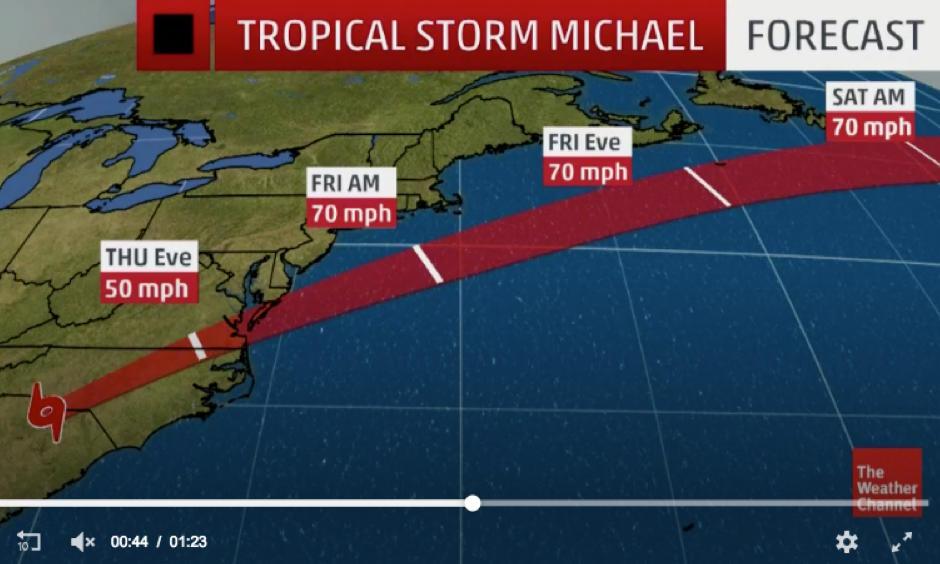 The National Hurricane Center's Storm Surge Unit, estimated peak storm surge inundation of 9 to 14 feet above ground likely occurred from Mexico Beach through Apalachee Bay, a location notorious for storm surge even from less intense tropical cyclones.
Michael's storm surge produced a peak inundation of 7.72 feet above ground level at Apalachicola, Florida, Wednesday afternoon, smashing the previous record of 6.43 feet above ground set during Hurricane Dennis in July 2005.
Peak inundation of 5.31 feet above ground at Panama City, Florida, was second only to Hurricane Opal in 1995. Cedar Key, Florida, saw peak inundation of just over 4 feet Wednesday afternoon.
An observing site near Tyndall Air Force Base, east of Panama City, measured a wind gust to 129 mph early Wednesday afternoon, and a gust to 107 mph was reported 1 mile south of Panama City.
At one time, it was estimated over 200 roads in the city of Tallahassee were blocked by fallen trees.
A weather reporting station deployed by Weatherflow and the University of Florida measured a surface pressure from 920-929 millibars, an extraordinarily low pressure to measure on U.S. soil, before it was toppled, according to Shea Gibson, WeatherFlow, Inc. meteorologist.
Michael also shattered Panama City's all-time low pressure record, which had stood from Hurricane Kate in 1985.
Here are some other notable peak measured wind gusts by state:
Florida: 129 mph at Tyndall AFB; 89 mph in Apalachicola; 71 mph in Tallahassee
Alabama: 68 mph in Dothan
Georgia: 115 mph in Donalsonville; 70 mph in Albany
South Carolina: 55 mph in Myrtle Beach; 52 mph near Charleston
Rainfall from Michael has now topped 6 inches in a few locations, but has been held down somewhat, primarily due to Michael's more rapid forward movement compared to Florence.