Winter so far has people out west asking, Where's the snow?
Sierra Nevada, California
Lake Mead
,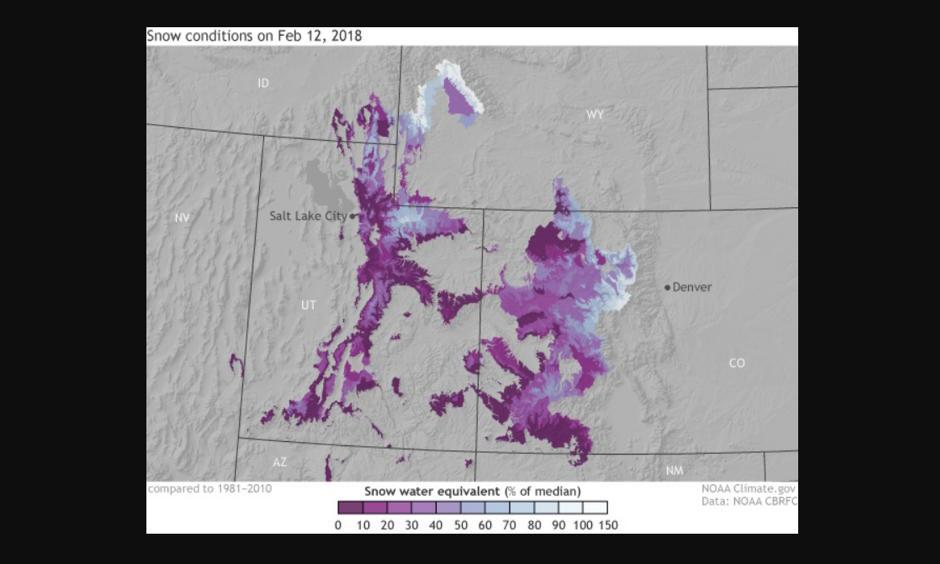 It's that time in winter when vacationers break out their skis and snowboards and head West to ski the slopes of the Rockies and Sierra Nevada Mountains. Economies of whole regions rely on the draw that several feet of pure, powdery snow has on people. So far this winter, not nearly enough snow has fallen.
Instead of fluffy snow, skiers are finding conditions so bad that some Colorado resorts have cut back on hours. According to the Associated Press, a resort in Grand Mesa, Colorado, has received only 45 inches of snow in total this winter, almost nine feet less than last year. As of February 14, statewide snowfall was running below average at 85% of normal.
The below-average winter is affecting mountain towns up and down the Rockies. In Utah, snow levels are currently running at only 49% of normal. The snowpack on New Year's Day was the thinnest since 1977 according to the Salt Lake Tribune. And similar to resorts in Colorado, those in Utah have had to deal with a less than perfect ski season.
Farther south in Arizona, snows across the Rockies and in the Upper Colorado River Basin have been extremely low so far this year. Snow water equivalents—the amount of liquid water that would result if the snow melted in an instant—are between 0 and 30% of the median for this time of year for a broad region. In fact, the "best" areas for snow this season lie along the Front Range in Colorado and are only just around normal.
Water worries
For areas in the Upper Colorado River Water Basin along the southern Rockies which rely on snow melt for water resources later in the year, snow amountsthis low bring fears. Particularly, is there going to be enough snowmelt to fill Lakes Mead and Powell, which provide water to major cities like Tucson and Phoenix?
As of early February, the snowpack that feeds into the Colorado River is tied with 1990 for the lowest amount on record for this time of year. How did it get so low? It was a combination of a late start to winter across the region and warmer than average temperatures during late autumn and early winter, which not only evaporated the snowpack but during storms led to rain falling instead of snow.