Yes, it's freezing. But, scientists say, climate change is still real.
,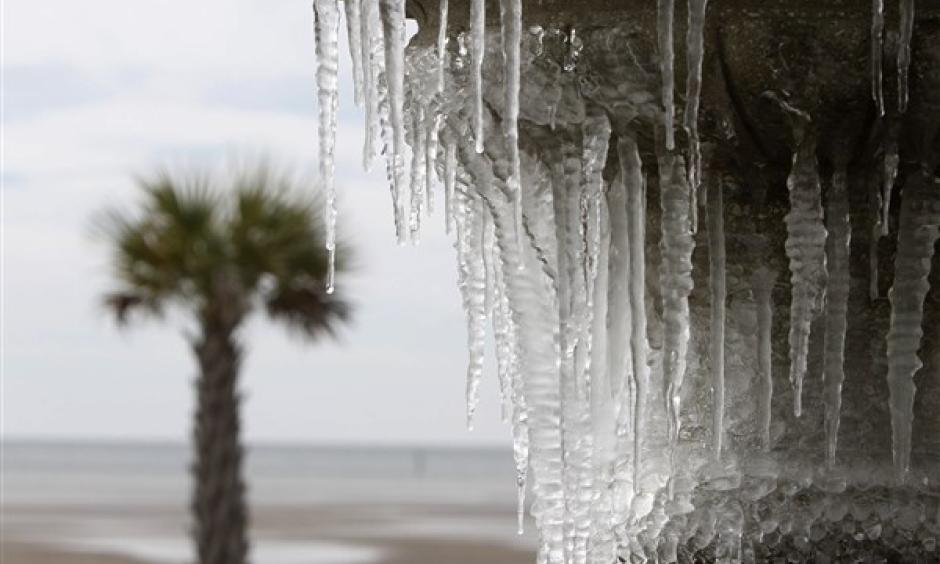 Although it may be tempting to question global warming when temperatures are so frigid, the abnormally cold weather over the eastern U.S. and parts of Canada is an anomaly compared to conditions over the rest of the world.
As Morales pointed out in his TV broadcast Thursday, even though much of North America is experiencing below-average temperatures, most of the rest of the world is warmer than usual right now. Indeed, last month, the National Oceanic and Atmospheric Administration released a report finding that the Arctic is now warmer than it has been in at least a millennium and a half.
"It's pretty mild to downright very warm as compared to normal, with the warmest readings in the poles, both North and South," Morales tells The World in an interview. "Really the only pocket of very cold air, compared to averages, is across North America."
It is also worth remembering the following: The three warmest years on record globally, since records began in the late 1800s, are 2014, 2015 and 2016.
2017 was expected to rank among the top five warmest years on record.
By late December 2017, warm weather records outpaced cold by a factor of 3 in the United States.
...
The current cold snap is a result of a southward dip of the jet stream, bringing icy Arctic air into Canada and the US. Researchers have found this pattern becoming more frequent in recent decades and have related the trend to reduced ice on the Arctic Ocean — due to climate warming — affecting the polar vortex, sending extremely cold temperatures farther from the polar region.
Some studies do suggest that climate change will shift the jet stream's patterns and may bring these cold days to parts of the US more frequently — but that point is still being studied and debated.