Who we are
Climate Signals is a nonprofit, nonpartisan project of Climate Nexus that curates climate change attribution science and provides resources in real time explaining how climate change worsens extreme events.
The Climate Signals team curates cutting-edge climate change attribution science to explain the causes, extent, and immediacy of climate change hazards, with a focus on extreme weather events and other climate change impacts in the United States.
Climate Signals tracks climate change impact stories in the news, monitoring and informing media coverage. Climate Signals provides resources for a range of audiences – including the media, policy makers, teachers, and other advocates – explaining the climate change links to real time impacts.
Climate Signals is supported by Climate Nexus, an organization founded in 2011 to change the conversation on climate change and clean energy from an argument to a constructive search for solutions. Climate Nexus is a sponsored project of Rockefeller Philanthropy Advisors, a 501(c)3 that helps individuals, trusts, foundations, and corporations achieve their philanthropic goals. RPA's tax disclosures can be found here.
Climate Signals was originally launched in 2010 as an independent project by Hunter Cutting. Climate Signals underwent graphic redesign and content expansion in 2016 under the sponsorship of Climate Nexus. In 2019, Rose Andreatta became project director.

Rose Andreatta
Rose Andreatta is a climate change impacts expert with over a decade of experience translating scientific information into usable formats for a variety of audiences. As the Associate Director of Climate Science Communications, Rose directs the Climate Signals platform, one of Climate Nexus's marquee projects. Rose earned her Master's of Public Administration in Environmental Science and Policy at Columbia University and holds a Certificate of Achievement in Weather Forecasting from Pennsylvania State University.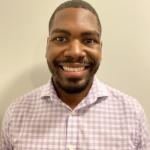 Terran Kirksey
Terran Kirksey is the climate science communications manager involved with climate science outreach to the public and media via our Climate Signals program.
Prior to joining Climate Nexus, Terran amassed a decade of science communications experience as a broadcast meteorologist, working in several regions of the country. 
Terran has a Bachelor of Science degree in Meteorology from The University of Oklahoma, and a Masters of Science degree in Geosciences from Mississippi State University.