Heat Wave 'Lucifer' August 2017



 Italy
The summer of 2017 in Western Europe and the Euro-Mediterranean region featured a series of major heat waves. Early August saw a particularly intense heat wave — called "Lucifer" — in southeastern countries. The three day heat event broke numerous records, including several all time highs.
An analysis conducted by the World Weather Attribution group in September 2017 found that climate change has made extreme three day heat events like Lucifer four time as likely since 1900.[1]
The increasing frequency and intensity of heat waves is among the most obvious and well documented effects of climate change, according to the National Academy of Sciences. Four out of five record-hot days globally are now attributed to climate change.[2]
Get the details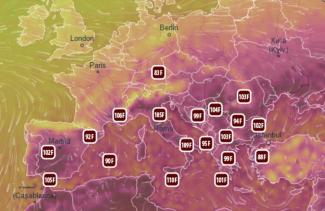 Climate science at a glance
---
Record breaking high temperatures are a classic signal of a warming climate
A heat wave descended on southern Europe and the Balkans the first week of August 2017, bringing temperature records and exacerbating drought and wildfire conditions in the region.
Local maximum temperatures in Italy and the Balkans topped 40°C (104°F) for several days.[1] Many cities in Italy and at least one in Croatia set new all-time highs. On August 2nd, Florence logged 41.3°C (106.3°F); Perugia, L'Aquila, and Potenza set all-time records the same day.[2] Campobasso and Split (42.3°C/108.1°F) followed suit on August 3rd.[2] The first-ever "tropical night" (meaning overnight temperatures greater than 20°C/68°F) was reported at 1,500 meters (4,920 feet) of elevation in Slovenia.[3]
Southern Poland also made headlines with abnormally high August temperatures.[1] The heat combined with high humidity was described as the "worst heat wave since 2003" (BBC) in southern countries.[1]
At least three heat-related deaths occurred[3][4] and two additional people were killed by wildfires.[4] The heat wave, combined with drought, reduced Bosnia's agricultural output—responsible for one-tenth of the country's economic output—by nearly 50 percent.[5] The heat also worsened severe drought conditions that have plagued Italy since the spring.[6] Italy's grape harvest started before August 15th for the first time in living memory.[5]
---
Global warming increased the chances of seeing a heat wave like Lucifer by at least a factor of four since 1900
Scientists with World Weather Attribution (WWA) conducted a multi-method attribution analysis to assess whether and to what extent human-caused climate change played a role in three-day heat waves such as the early August heat wave dubbed Lucifer, as well as the record hot summer (June–August) across the Euro-Mediterranean region.[1]
The team found that climate change increased the chances of seeing a summer as hot as 2017 by at least a factor of 10 and a heat wave like Lucifer by at least a factor of four since 1900.[1]