Snowmageddon February 2010



 United States
Atlantic sea surface temperatures 2.7°F (1.5°C) above average helped strengthen Snowmageddon, a major nor-easter that brought record snowfall to the Washington DC metro area.
Get the details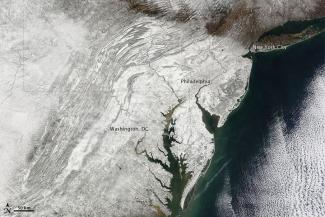 Warmer seas intensify winter storms
The Snowmageddon of 2010—a Category 3, major nor-easter that inundated a large swath of the eastern seaboard on February 5 and 6—was the second of four major nor'easters to bring extreme snowfall to the eastern US during the exceptional 2009 - 2010 winter season. The Washington DC metro area bore the brunt of the impacts, with two of three major airport weather stations setting all-time two-day snowfall records. All three stations observed all-time record seasonal snowfall totals for December through the end of February.
Climate change helped fuel Snowmageddon due to Atlantic sea surface temperatures that were 2.7°F (1.5°C) above average. Imagine, just as water evaporates more quickly when you turn up the heat on your stove, so too warmer ocean water gives off more water vapor, increasing water in the air. At the same time, the maximum amount of water vapor that the atmosphere can hold increases alongside global temperature at a rate of about 7 percent per degree Celsius.
During Snowmageddon, this led to an exceptional amount of moisture flowing into the storm and very large amounts of snow. From 1981 to 2010, Washington, DC received an annual average of 14.5 inches of snow, and Baltimore an average of 20.2 inches. In two days, Snowmageddon dropped 20 to 30 inches of snow throughout the area with some locations recording more than 3 feet of snow.
---
Scientists find more frequent intense blizzards in a warming world
The winter of 2009 - 2010, while exceptional for having many intense storms, is consistent with the trend scientists have observed and expect as the planet warms. NOAA scientists, examining 120 years of data, found that there were twice as many extreme regional snowstorms in the US between 1961 and 2010 compared to 1900 to 1960.
Scientists have also observed unusual variability in the North Atlantic atmospheric circulation, or NAO—which is a fluctuation of pressure differences between the tropical and northern Atlantic. During Snowmageddon, the NAO's pressure gradient was unprecedentedly weak (or negative), which created a blocking pattern bringing Arctic air to the Eastern US. Scientists have said that as temperatures get warmer, "there's potential for more violent swings of the NAO— the phases becoming even more positive and even more negative." One study notes that "more recently the NAO and AO have become somewhat less positive, with some extreme negative excursions."