2015 was officially the warmest year. 2016 will likely be hotter.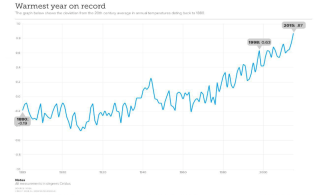 "[2015] was much much warmer than 2014, and 2014 itself was a record," said Gavin Schmidt, the director of NASA's Goddard Institute for Space Studies, in an interview with Mashable.
...
A record-strong El Niño event in the Pacific Ocean may have helped a bit, but the majority of the warmth [in 2015] year was caused by manmade emissions of greenhouse gases, like carbon dioxide and methane, from the burning of fossil fuels.
"Generally speaking you have a warm year in the year following an El Niño," Schmidt said in an interview in his office on the Upper West Side of Manhattan. The Goddard Institute, known by its acronym, GISS, is a small NASA laboratory that sits incongruously above the famed deli whose exterior was a fixture on the TV series Seinfeld.
Schmidt cited 1998 as an example of a year that started out with an El Niño and wound up being a record warm year. The same thing happened in 2005 and 2010, which are both in NASA's current list of the top 10 warmest years, he said.
...
The lag effect that El Niño has on the atmosphere means that 2016 is also likely to set another warmest year record, or come close to it, Schmidt said.
"We expect 2016 to be if not the warmest then one of the top five as well," he said.