2017 Arctic sea ice minimum comes in at eighth smallest on record
,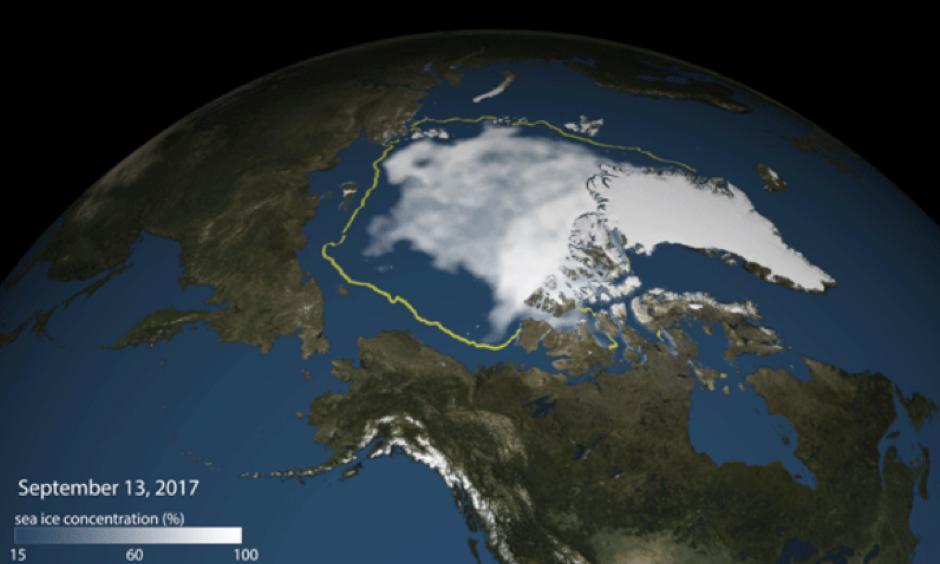 On September 19, the National Snow and Ice Data Center (NSIDC) announced that Arctic sea ice had probably reached its annual minimum extent. Defined as the area of ocean with at least 15% sea ice concentration, the extent dipped to 1.79 million square miles (4.64 million square kilometers) on September 13, 2017. It was the eighth-lowest Arctic minimum extent in the 38-year satellite record.
...
Though nowhere near a record low, the 2017 minimum extent was well below the long-term average. Throughout the 2017 Northern Hemisphere melt season, sea ice extent remained below the 1981–2010 average, and below 80% of the range of values around that average. (Visit NSIDC's Charctic to compare yearly values.)
This year's low extent continues a long-term trend of Arctic sea ice decline. The 10 lowest extents have all been recorded since 2007, and 2009 is the only year not to have a sea ice extent in the bottom 10.