2017 Atlantic Hurricane Season Among Top 10 Most Active in History
,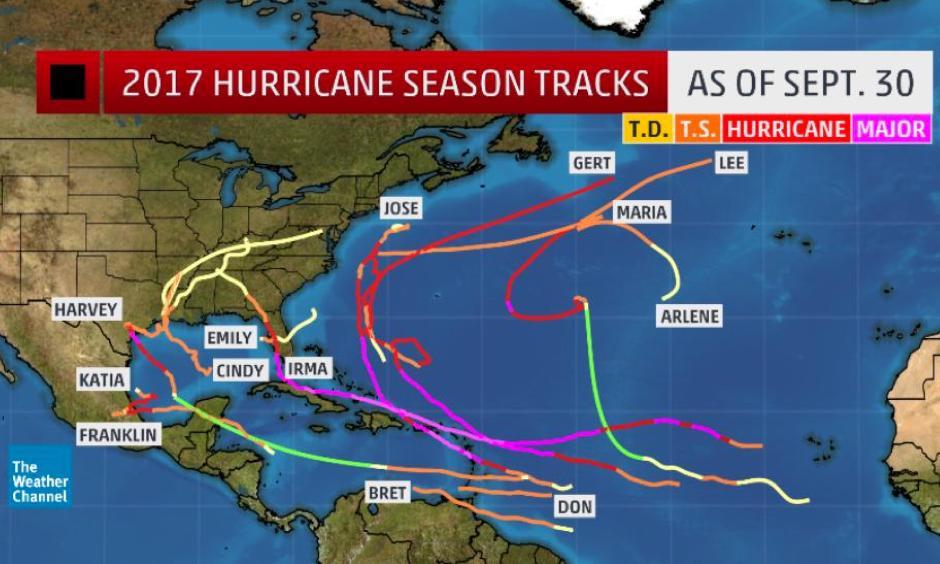 The 2017 Atlantic hurricane season is now among the top 10 all-time most active seasons on record, thanks to a frenetic stretch of long-lived, destructive hurricanes from mid-August through September.
As of September 30, 13 named storms, eight hurricanes, and five major (Category 3 or stronger) hurricanes had formed in the 2017 Atlantic hurricane season.
By one measure of activity called the ACE (Accumulated Cyclone Energy) index, which adds each tropical storm or hurricane's wind speed through its life cycle, the 2017 season is already a top 10 busiest season.
Through September 30, following the demise of former Hurricane Maria, 2017 was already the ninth most active Atlantic hurricane season of record, according to statistics compiled by Dr. Phil Klotzbach, Colorado State tropical meteorologist.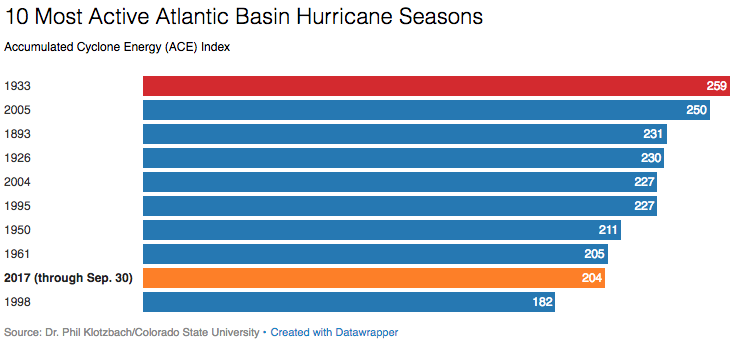 Long-lived, intense hurricanes have a high ACE index, while short-lived, weak tropical storms have a low value. The ACE of a season is the sum of the ACE for each storm and takes into account the number, strength and duration of all the tropical storms and hurricanes in the season.
According to a National Hurricane Center report, only 1933 and 2004 had a faster ACE pace through the end of September than 2017. As the graph above shows, each of those seasons ended up a top five active season overall, with 1933 occupying the top spot.
Roughly 20 percent of an average Atlantic season's ACE index occurs after October 2, according to Klotzbach's climatology.
Just an average amount of ACE the rest of this season would place 2017 in close to the top five most active seasons in the satellite era.