70s in February: Record high temperatures surge in the Eastern U.S.
,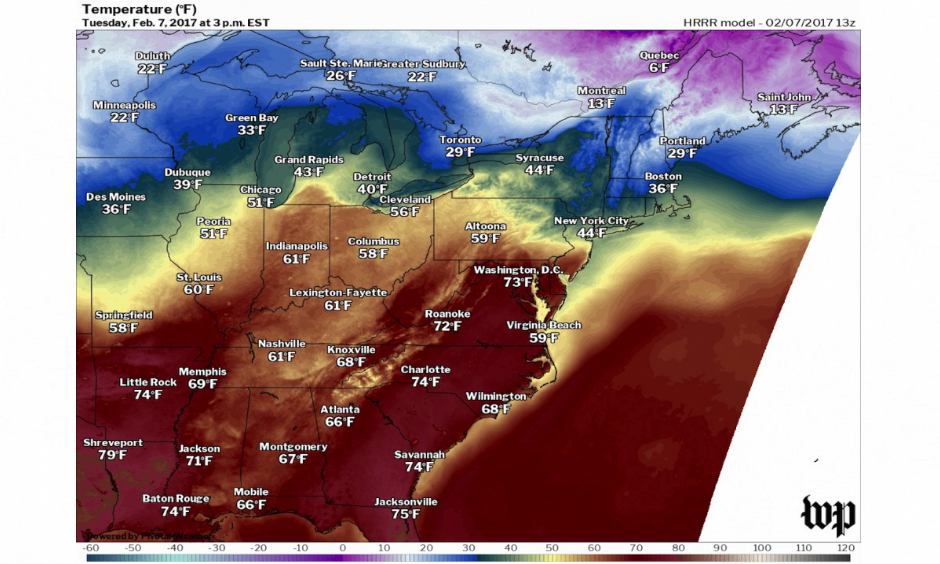 Archiver's preface
A small shift in climate leads to a dramatic increase in the frequency of temperatures at the high end. The very most extreme events are the events most affected by climate change. As the average global temperature rises and the climate shifts, hot temperatures that were extreme under the old climate are closer to the middle of the new temperature range. Under the earth's climate system events closer to the midpoint of the climate range occur much more frequently than events closer to the extremes, as shown in the graphic on the right. The shifting bell curve also leads to the occurrence of never-before-seen extremes in high temperatures.[1][2][3]
Article excerpt
It does not feel like winter in the Eastern U.S. this week. Spring has already arrived in the Southeast and forecast highs are in the 70s as far north as Washington, D.C. and Baltimore, breaking records at dozens of climate-monitoring stations.
A strong, spring-like cold front is pushing east this week. Ahead of the storm, winds from the south are pumping warm air north into the Mid-Atlantic. Record highs for the date fell from Texas to Maryland Tuesday.
In Washington, D.C., Tuesday's morning temperature was 48 degrees, which sets a new record for warmest overnight low for the date. The old record was 47 degrees in 1904.
At 3:31 p.m. Tuesday afternoon, Washington crushed its previous record high of 64 (set in 2008), rising to 73 degrees.
Records broken on Tuesday
Records that have already been broken or tied are italicized. Temperatures will continue to rise through 3 or 4 p.m.
Washington D.C. — 64 degrees (1887)
Dulles Airport — 65 degrees (2009)
BWI Airport — 64 degrees (1904)
Paducah, Ky. — 66 degrees (1999)
Memphis, Tenn. — 72 degrees (1937)
Jacksonville, Fla. — 80 degrees (1904)
Houston — 80 degrees (1957)
Corpus Christi, Tex. — 83 degrees (2000)
Austin — 84 degrees (2013)
Brownsville, Tex. — 85 degrees (2013)
Monday record highs (old record)
Austin — 81 degrees (79 in 2009)
Oklahoma City — 77 degrees (73 in 2009)
Houston — 81 degrees (tie/1969)
Memphis — 73 degrees (tie/1928)