After 2000-era plateau, global methane levels hitting new highs
,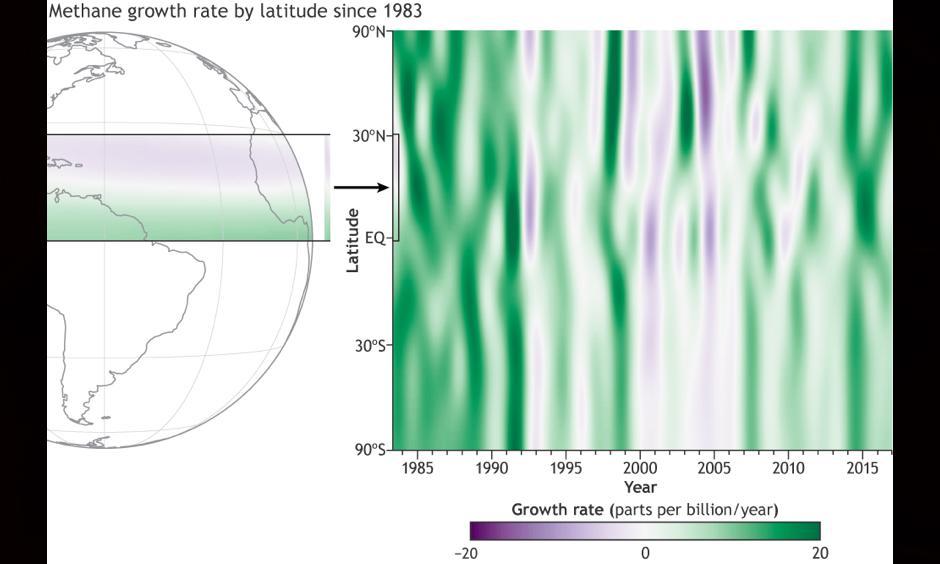 When it comes to global warming, carbon dioxide is the 800-pound gorilla: it's the most abundant of the long-lived greenhouse gases that human activities generate. But ounce for ounce, methane (CH4) traps more heat, and it accounts for about 20% of the greenhouse gases produced by human activities. Strangely, though, global methane levels "flat lined" from 1999 to 2006.
The plateau didn't last, however, and in recent years, global methane levels have been hitting new highs. Figuring out what's going on with methane is a high priority for carbon cycle experts at NOAA and other institutions around the world. Possibly the most important clue: air samples collected at different latitudes around the world show that the amount of methane carrying carbon-13—a rare, heavy isotope of carbon—has dropped significantly since 2007.
That drop casts doubt on one of the first explanations experts considered for the post-2007 rise: an increase in methane emitted from fossil fuels, including "fugitive" methane gas escaping during oil and natural gas drilling. Instead, the chemical fingerprints point toward agricultural and wetland emissions from the tropics.