All-Time Warmth for February Stretches to New England
,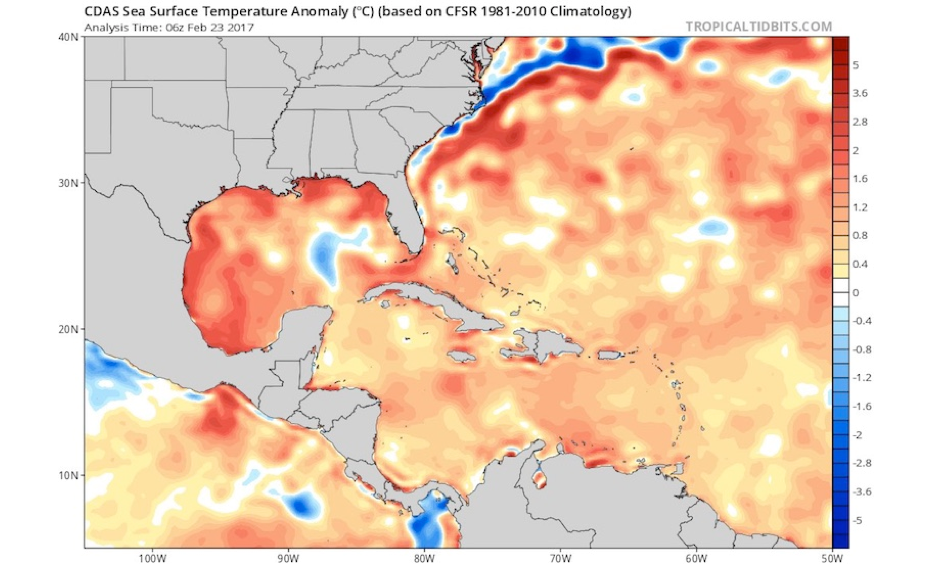 A February remarkable for its long stretches of mildness steamed onward Thursday, with more all-time records for the month continuing to tumble across wide stretches of the U.S. The apex of the record-setting warmth expanded on Thursday from the Midwest into New York and New England. A staggering number of daily record highs have been set in recent days, especially when juxtaposed against the sparse number of record lows this month. As of Friday morning, NOAA's U.S. Records site had compiled 4492 daily record highs for February 2017, against a mere 29 daily record lows, for a lopsided highs-to-lows ratio of 155-to-1. With record highs expected to far outpace record lows through the end of the month, February has a very good chance of smashing the highest ratio in modern records: 44-to-1, from November 2016, as reported by longtime records tracker Guy Walton (@climateguyw) in his new Guy on Climate blog. Brian Kahn (Climate Central) puts it this way: "The U.S. is poised to set a record-setting record."
...

Another astounding tidbit: the NOAA site shows 248 monthly record highs for February, but no monthly record lows at all. This is the first time that Walton recalls seeing such a skewed ratio of monthly records. It almost goes without saying that this onslaught of February records is entirely consistent with the warming of national and global climate being generated by human-produced greenhouse gases.
...
The polar jet stream and associated surface front that typically swings through the United States in late winter has been hovering close to the U.S./Canada border, with intrusions of seasonally cold air into the central and eastern United States either absent or short-lived over the last few days. The air mass south of this boundary has been notably mild and humid, flowing northward after spending time atop sea-surface temperatures that are at record-warm levels for late February.

"Western Atlantic basin SSTs are on fire!" tweeted hurricane forecaster Eric Blake (@EricBlake12) on Thursday. "Easily warmest on record--especially the Gulf of Mexico." This warmth is especially well reflected in a swarm of daily record highs and record-warm lows at Galveston, TX, where records began in 1874. Since September 1, Galveston has set an impressive 33 heat records of various types--more than any other Southeast city during that period in a compilation pulled together late Thursday by Houston meteorologist Matt Lanza (@MattLanza). Eric Berger (Space City Weather) has more on the extremely mild Houston/Galveston winter.