Another Quirky Medicane Hits the Eastern Mediterranean
,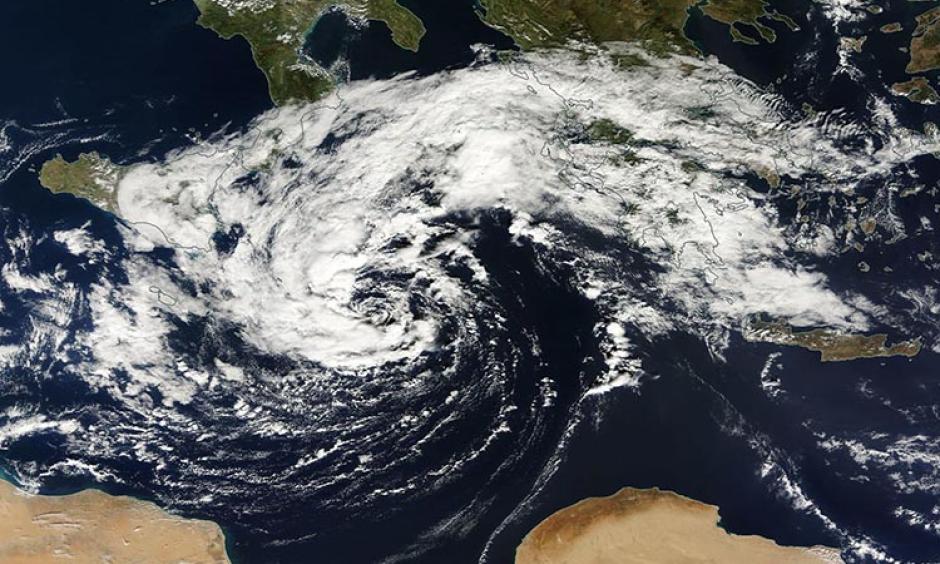 When the Atlantic hurricane season begins to quiet down in late October and November, it's time to cast an eye toward the Mediterranean Sea for "medicanes"--a nickname for storms that develop tropical characteristics just off the coast of southern Europe. Medicanes aren't considered full-fledged tropical systems, since the waters of the Mediterranean aren't extensive or warm enough to sustain a true hurricane. However, it's quite possible for an existing center of low pressure in the Mediterranean to briefly take on tropical characteristics, including a symmetric structure and a small core of warm air. Such was the case with a low that intensified last weekend while traveling from near Malta (south of Italy) toward the Greek island of Crete. As it pushed east, this medicane sent high surf west toward Malta and east toward Israel.

The storm swept across Crete on Monday with high winds and heavy rain. On Crete's northwest coast, the city of Chania (Souda Air Base) recorded 3.07 inches of rain and peak wind gusts of 60 mph on Monday, October 31. Sustained winds topped out at just 35 mph. Crete's largest city, Heraklion, on the island's northeast coast, got 0.71 inches of rain, with top wind gusts of 46 mph. On Friday, a ship reported a wind gust to 57 mph, noted Capital Weather Gang. The system probably hit its peak intensity while over the open Mediterranean west of Crete during the weekend. As reported by weather.com, sea surface temperatures in the region were only about 22 - 24°C (72 - 75°F). That's as much as 2°C above average for this time of year, but well below the usual 26°C benchmark for tropical development. Still, it appears the system briefly took on the symmetric warm-core features typical of a tropical storm.