Arctic Blast Grips Parts Of the U.S., With Snow And Record-Breaking Cold



 United States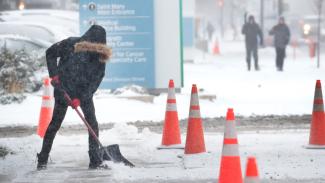 A massive storm dumped nearly a foot of snow at the Buffalo, N.Y., airport, according to NWS, as of Tuesday afternoon.
The Buffalo News called the storm "record-shattering," saying it broke a Nov. 11 snowfall total that had stood for the city for 77 years. The paper writes: "Monday's snow totaled 8.7 inches, well above the old record of 5.3 set on Nov. 11, 1942. The record was actually surpassed before 9 p.m., when the snowfall hit 5.9 inches, but it kept coming down overnight."
The Buffalo News notes the city of Rochester, N.Y., about 75 minutes east of the city, "also smashed its record Monday as its 8.2 inches of snow broke the mark of 5.2 set on Nov. 11, 1991."
In the Chicago area, a storm being dubbed "snowvembruary" set single-day snowfall records for Nov. 11 at Chicago's O'Hare airport (3.4 inches) and in Rockford, Ill., (3.2 inches).