The Arctic Plunge: From Feeling Like 92 to Freezing in a Day



 United States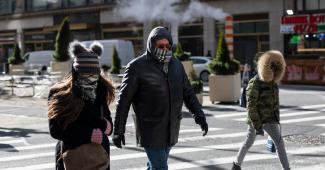 Temperatures were hovering around or punching past the freezing point for most of the population as a dip in the jet stream funneled Arctic air across the eastern half of the country.
In Texas, recent warm weather gave way to numbing cold, with the "feels like" reading dropping from 92 to 31 in places.
...
By the time the air mass moves on, it is expected to have broken more than 150 daily-temperature records.
"This kind of weather is coming a month or two earlier than normal," said Marc Chenard, a National Weather Service meteorologist. "I wouldn't call it extreme cold, but it is extremely below average for this time of year."
...
Temperatures dropped even lower in the Midwest, though residents and officials there said they were generally unfazed and are always prepared for an early winter storm.
In Chicago, forecasters expected the high temperature on Tuesday to reach just 18 degrees, 10 degrees below the previous record for the coldest high temperature.
...
With such a drastic drop in temperatures across so much of the country, questions are often asked about how it can be so chilly if climate change is warming the globe.
But such questions may confuse weather and climate. While climate refers to the long-term averages and trends in atmospheric conditions over large areas, weather deals with short-term variations, which is what happens when Arctic air visits your hometown.
And, of course, an Arctic blast can still occur in a warmer world, even if the air that comes down from the north is not as cold. Some studies suggest that climate change could actually make frigid waves of Arctic air more common, a result of shrinking sea ice.
Unlike in the rest of the country, above-average temperatures were expected across the West into the Great Basin and Rockies. For Southern California and the Southwest, warmer temperatures, relatively low humidity and a lack of rain mean an elevated threat of fires.