Arctic Sea Ice Continues Its Astonishing Streak of Lows
,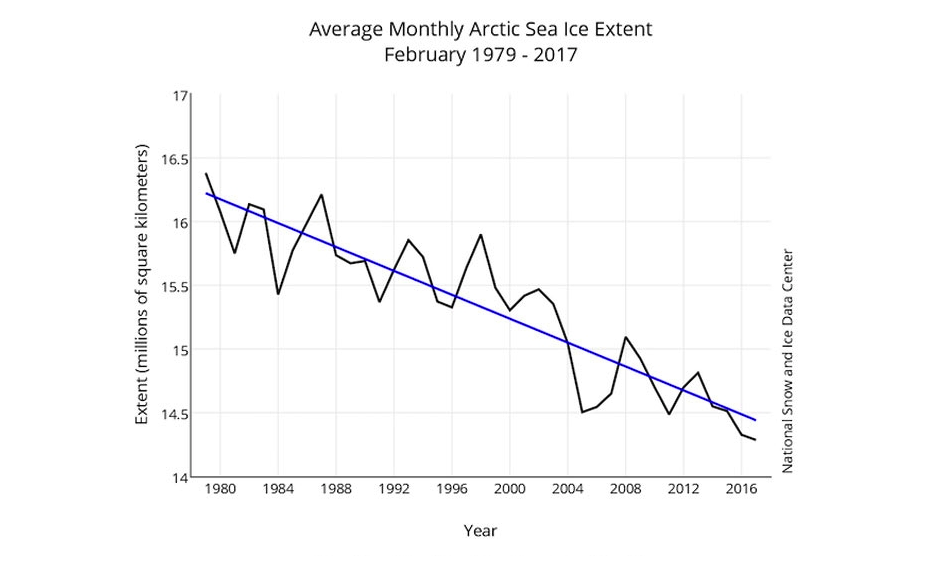 Warm weather ensured Arctic sea ice hit its lowest extent ever recorded for February. Sea ice covered 5.51 million square miles, which is 455,600 square miles below average or a chunk of missing sea ice four times the size of Italy. That just isn't normal.
Parts of the region averaged up to 9°F above normal, according to new data released by the National Snow and Ice Data Center. In what's been a recurring theme this winter in the Arctic, incursion after incursion of warm air has kept the region astonishingly mild for this time of year.
That's slowed sea ice growth to a crawl and even reversed it at times, resulting in the run of monthly lows. September saw sea ice bottom out at its second lowest extent on record. Since then, every month save December has set a record low (and December was the second-lowest extent so it's not like sea ice was plentiful then either).
All Arctic watchers' eyes are on the annual sea ice peak and whether 2017 will mark the third year in a row of a record low maximum. It appeared to peak in late February and then started to decline. Scientists haven't officially called that the peak, however, since recent days have seen sea ice start to grow again as the temperature dropped.
Where this year's maximum falls is one data point in a long trend of decreasing sea ice. The sea ice maximum has declined by 3.2 percent per decade while the minimum has dropped by 13.3 percent per decade. Old, stronger ice is also disappearing, leaving younger ice that melts more quickly in summer in its stead.
The rapid changes in the Arctic are of utmost importance to scientists studying climate change. The region, which is warming twice as fast as the rest of the world, is a bellwether of what the rest of the world may face unless carbon pollution is checked.