Argentina Scrambles to Fight Biggest Plague of Locusts in 60 Years



 Argentina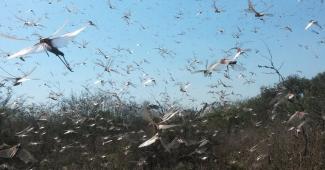 Farmers and fumigators in Argentina are running out of time as they scramble to control the country's worst plague of locusts in more than half a century, officials warned on Monday.
The provincial authorities and Senasa, the government's agricultural inspection agency, have intensified their efforts to exterminate swarms of the insects in the dry forests of northern Argentina...
"It's the worst explosion in the last 60 years," Diego Quiroga, the agriculture agency's chief of vegetative protection, said in a telephone interview. "It's impossible to eradicate; the plague has already established itself. We're just acting to make sure it's the smallest it can be and does the least damage possible."
Small pockets of locusts, which first appeared last June, at the start of winter in the Southern Hemisphere, have spread across an area of northern Argentina about the size of Delaware. The mild and rainy winter here created comfortable breeding conditions for the locusts; their surge outpaced the ability of the authorities to control the spread of the insects...
In the past five years, Senasa, the agricultural agency, has seen an increase in the numbers of insects that can destroy crops — like fruit flies that threaten citrus groves — as a result of warmer, wetter winters...