Arizona Wildfire Explodes in Size Due to Dry, Windy Weather



 United States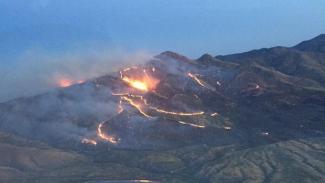 More than 100 homes have been evacuated in southern Arizona's Santa Rita Mountains.
A wildfire sparked over the weekend grew to at least 28 square miles Tuesday.
The blaze was only 7 percent contained as of Tuesday afternoon and weather conditions aren't likely to improve anytime soon.
...
"Precipitation has been below average in this area for the last few months," said weather.com meteorologist Chris Dolce. "Green Valley has seen just 0.43 inches of precipitation since Feb. 1 – about 25 percent of their average for that period."
These conditions created the perfect combination for a fire, a Green Valley Fire Department spokesperson told KGUN, and all it needed was a small spark.