Australia's parched koalas seek out new water sources
,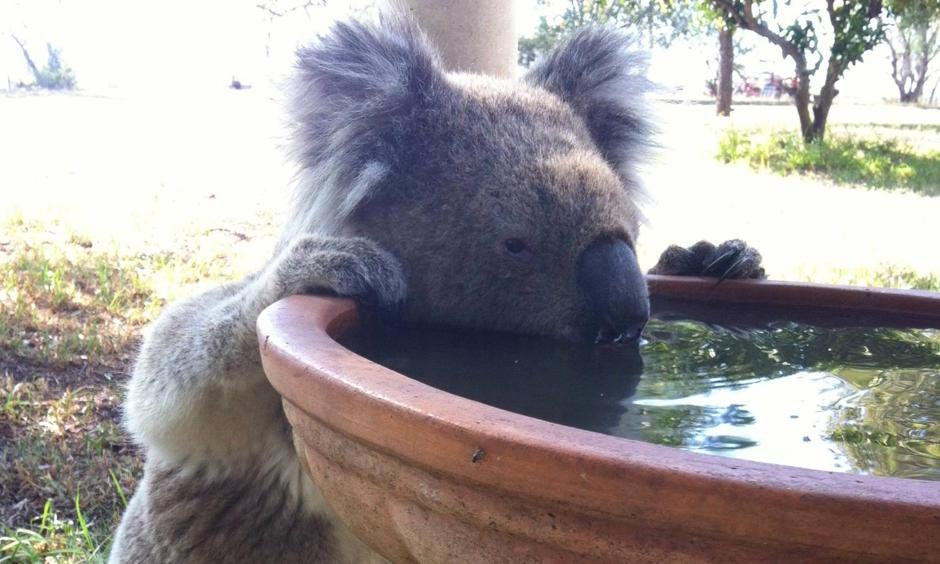 Koalas are standing on their hind legs for more than 10 minutes at a time to gulp water at drinking stations in Australia as rising temperatures and rainfall disruption drive the animals to search for new sources of moisture, scientists say.
The desperation to slake their thirst is driving a change in the habits of the tree-dwelling species, with animals ready to run the risk of attack from predators on the ground in their scramble for water.
Rather than relying solely on eucalyptus leaves for nourishment and moisture, more than 100 koalas drank from water stations both on the ground and in trees over the autumn and winter months, camera footage showed.
...
The researchers placed cameras and purpose-built water stations around a farm in the rural town of Gunnedah, more than 300 km (186 miles) from Australia's most populous city, Sydney, and home to a large koala population.
...
The koalas were drinking water for an average of more than 10 minutes even during the winter month of August last year, Mella found.
Scientists previously believed that koalas only needed to consume leaves, and did not drink.
...
Most of Australia's east coast endured its hottest summer on record between Dec. 1 and Feb. 28, the independent Climate Council said this month.
The koala was listed as a "vulnerable" species under an Australian conservation law in 2012. There are fewer than 100,000 of the animals left in the wild, perhaps even as few as 43,000, the Australian Koala Foundation estimates.