Bleaching and disease are devastating the biggest coral reef in the continental U.S.



 United States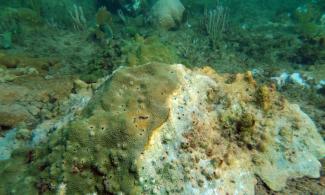 Toward the end of the summer, scientists in Florida started to notice the beginnings of a bleaching event, said Sean Morton, superintendent of the National Oceanic and Atmospheric Administration's Florida Keys National Marine Sanctuary.
"We start to really look out when the water temperature gets about 30 degrees Celsius, or 86 degrees Fahrenheit," Morton said. "When it hits that level, the corals get stressed."
The bleaching, itself, isn't exactly unusual, said Meaghan Johnson, marine science coordinator for The Nature Conservancy in Florida. Every year for at least the past 10 years, some bleaching has occurred on the reef tract. However, the bleaching was particularly severe both last year and this year — and this year's bleaching event has been compounded by a potentially even more serious threat: an unusually widespread outbreak of disease that eats away at live coral tissue and can cause parts of the reef to die.
The disease outbreaks have been especially severe in the area off the coast of Miami, where bleaching was particularly heavy, Morton said. While several different types of coral disease have been observed, a disease known as "white plague" has been the most prevalent.
...
However, Walker said it's the worst he's seen the reef — at least the part of it in the region north of the Keys — in the 18 years he's been working there. He and his colleagues have been examining a cluster of "large corals" (between six and 25 feet in diameter) in the northern extension of the Florida reef tract, some of which are up to 400 years old. They found that about half the living corals were affected by either bleaching or disease, and in some cases had lost up to 60 percent of their live tissue.